Tuesday
March 13
2018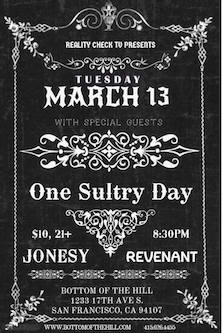 8:30PM

doors -- music at 9:00PM




••• 21 AND OVER




$

10


One Sultry Day
www.onesultryday.com/


alternative roots rock


Jonesy
jonesyband.weebly.com/music.html


Rock Hippie Blues Twang


Revenant
therevenant.com/


Hard Edged Rock



---

One Sultry Day
Vocals / "Renagade Rebel" Roxanne Bradshaw
Vocals, Guitar / "One Sultry" Dana Dougherty
Guitar / Jeff "Dragon" Lombardi
Bass / David "V" Velock
Drums / Michelle Wadlow
-from Seattle, WA
-One Sultry Day is an alternative rock band with Celtic and Native American roots. Our mission is to spread the power of positivity. The band was created by STEPPENWOLF REVISITED rhythym guitarist Dana Dougherty and officially launched in April 2017.

One Sultry Day songs are transformative in nature. They deal with moving on, overcoming challenge, discarding chaos, or navigating emotional waters. Our songs rock in an inspiring and uplifting manner, illuminating the path to betterment. If you believe in yourself, the universe will believe in you. We attract what we think and what we believe. Our expectation controls reality. Be open to change, be invested in good things... and everything is possible. Follow your dreams!





Jonesy
Mark Jones, Tommy Lafferty,
Greg Dunn, Tymber
-from Bay Area, CA
-Take Mark Jones - Marin County singer, songwriter....introspective type. Add Tommy Lafferty, Axeman (Crown of Thorns, Voodoo X, Jean Beauvoir, From the Fire) , Bay Area most-wanted Greg Dunn, Bass (Rusty Strings Express, Afterglow, Lone Star Retrobates) and Tymber slammin' the skins (The Deadlies, Slam Suzzanne, Creepy KOFY Movietime) & you get... Jonesy.

Jonesy comes out of Marin County, California with rock roots and plenty of twists and turns. What's the sound? Melt your face melodies, free-flying highs and dig deep moods with some new dimensions to great rock & roll that gets you on your feet.

Think The Eagles and Alice Cooper on tour with Marshall Tucker with some sprinkling of a James Taylor, The Who and Tom Petty. Some say Mark carries a little Jim Morrison spirit in him.





Revenant
Jeff Piccinini - Lead Vocals and Bass Guitar
Frank Guiles - Lead Guitar and Vocals
Chris Carpiniello - Drums and Vocals
-from San Francisco, CA
-Singer/Bass Player Jeff Piccinini also known as Geoff Myles (aka) former original bassist for the legendary British punk rock bands Stormtrooper and Chelsea with Nashville guitarist Ernie Brady who formed Revenant in 2009 and are established with Chris Carpiniello on drums. Musically
this band blends the elements of a modern power trio, British rock and Jeff's and Chris's punk rock roots . "Emerging From the Darkness" is the latest offering by the band that delivers an energetic vocal style with hook laden bass lines heralding old school guitar riffs with a modern edge all driven by the relentless energy of Chris Carpiniello on drums.