Saturday
March 24
2018



7:30PM

doors -- music at 8:00PM

•••

ALL AGES




$

10

in advance

/ $12

at the door
PUBLIC ACCESS T.V.
www.patvmusic.com/


Post-punk New Wave Rock


The Soft White Sixties
thesoftwhitesixties.com/


Rock


The Pleasure Routine
www.facebook.com/p.routine/
psychedelic punk rock
Future Feats
www.futurefeats.com/


indie pop
---

PUBLIC ACCESS T.V.
John
Xan
Max
Pete
-from New York, NY


-The story of Public Access TV seems like it was written for an episode of Behind The Music. A group of friends drop out of high school and catch a New York City bound bus with dreams of starting a band. What follows is a frenzy of press hype, label bidding wars, a critically-acclaimed debut album, sold-out tours, and festival slots around the world.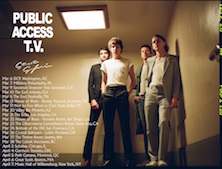 But as all viewers of any music doc surely know, there is always a darker side to the story, and PATV is no exception. Addiction, recovery programs, public brawls (mostly with one-another), a devastating explosion that destroyed all their earthly possessions, and a car crash behind the wheel of an 80's convertible...a lifetime packed into one-album cycle. Now for part two, Public Access TV's sophomore album: Street Safari.

The band, comprised of front man and lead-singer John Eatherly, Xan Aird, Max Peebles, and Pete Star, entered the studio to record the new album in fall 2017 with Producer Patrick Wimberly (Beyonce, MGMT, Chairlift) armed with a plethora of songs they'd written documenting the tumultuous last few years of their lives. The first single "Metrotech" previews the more expansive palette the band is working with on their new album.

"I think it's a cop-out to say that this is our mature album, or whatever cliche thing it is that bands say about their second album." says Eatherly. "There was no spiritual awakening or come-to-Jesus moment. We're four young guys trying to figure our lives out, be good people, and a lot of the time find ourselves coming up short. Expressing this through songwriting is the challenge and I can only hope the deliverance. "

"A debut fans of rock n' roll will love...it's absolutely fantastic" – The Guardian

"Public Access T.V., just released their debut to sweeping accolades, with critics across the genre asserting that the band's quick hit post-punk is what New York rock should sound like." – Fader

"The New York new wave reprobates' debut delivers instant gratification via boisterous choruses and loveable melodies."
– NME"





The Soft White Sixties
Octavio Genera, Aaron Eisenberg, Joey Bustos, Ryan Noble, Rob Fidel
-from SF to LA, CA
-Five years together, and the members of The Soft White Sixties have rarely sat still. They've lived much of their life in a 15-passenger van, traversing the country, whipping up new riffs, new rhythms, new lyrics and then, almost immediately, breaking them out onstage. For these hard-working musicians, it was simply a way of life.

But the band needed to step back. "You don't always need to be out there selling the song live," lead singer and principal lyricist Octavio Genera says now. The Bay Area band, as he sees it, needed to exhale. The four musicians, who'd grown beyond close with one another since forming in 2010, owed it to themselves to give the new songs they were concocting their proper due.

"It was about giving these songs the attention they deserve," Genera says of the band's decision to hunker down in a one-bedroom house in East Nashville in the fall of 2014 to workshop what became their tightest, most sophisticated and melodic material to date. "Every little part of each song was really put under a microscope much more than we had in the past," says guitarist and keyboard player Aaron Eisenberg, of constructing tracks armed with bluesy struts and squirms atop menacing guitar lines. "It was an exercise in patience for a lot of us sitting with parts for awhile and letting them settle," Eisenberg adds. "You have to be able to step back and say, 'Alright, cool there's one idea. But is there a better one?'"

For the Sixties, who'd released their debut full-length album, Get Right in 2014, capturing a certain vibe and a particular mood for their next batch of recordings was essential. The band always took an 'all hands on deck' approach to writing, but in the past they chiseled their song arrangements on stage without a clear sense of direction for the final result. For the next album the musical collective — which includes bassist Ryan Noble and drummer Joey Bustos — made a conscious decision to apply a forward-thinking kind of approach, continually asking the question 'what kind of band do we want to be?' To further ensure an open-book approach to the sessions, the band enlisted producer/mixer Matt Linesch (Edward Sharpe & The Magnetic Zeroes, Dave Mason), working with him at United Recording in Los Angeles. "Matt was almost like a fifth member, at times," Eisenberg says. "He embraced our new approach, while really stressing the importance of the music not being perfect. It's a human form of expression."

Who did they find themselves to be? "A band not afraid to embrace its murkier side", says Genera. "We wanted the songs to have a little darker tinge to them than those on our last record. Live, the tones were always a little darker, and there's a little more energy. We wanted to make sure to capture that in our recordings," Genera explains. In-studio discussions often turned to films — and more specifically the ominous tones their respective soundtracks conveyed — band members loved so much. "A lot of the movies we love have a darker, grittier side to them, grit that our music has as well," Eisenberg says, referencing the acclaimed works of filmmakers such as Quentin Tarantino, Paul Thomas Anderson and Martin Scorsese. "We wanted to write a song that would be used to introduce the villain,'" Eisenberg explains.

For Genera, the new Soft White Sixties material marks some of his most autobiographical work yet. "It's cliché to say music is my therapy but it's so often true," the singer says with a laugh. "With creativity there isn't a manual. If the words are right and the feeling is right it doesn't matter how you sing it. What you're trying to say will come through." Many of Genera's lyrical revelations, he says, center on his belief that "all too often, relationships make one lose sight of oneself in the process. Whether it be a man needing a girl to let him go rather than string him along with hopeless expectations, or a deep dive into the concept of being in the moment and being present."

The Soft White Sixties have no doubt they're on the right path. "It's really about doing what you love, and realizing everyone is doing the same thing, just in a different way," Genera says with a smile. Scratching their creative itch — whether in songwriting mode or performing live — is what keeps them excited for what's to come. Eisenberg says they have "a ton of other songs" they've been working on, not to mention a slew of music videos. Of course, they'll also be hitting the road to reveal their new material for much of 2016. For Genera, however, everything really boils down to a simple motto he can't shake. Says the singer with supreme confidence and conviction: "It's always about doing it better than the last time.".





The Pleasure Routine
Kevin Sofsrud - Lead vocals, guitar
Eric Mcdonald - Rhythm Guitar
Nate Tang - Lead Guitar, Vocals
Kirk Jacob - Bass
Harry Gibbons- Drums
-from Oakland, CA
-Creating a musical language that is both contemporary and timeless, The Pleasure Routine transports its listeners to an alternate realm, where jangly guitars and atmospheric rhythms support the raw and emotional vocals of Kevin Sofsrud and Lauren Kopp, who share their intimate tales of awkward youth, coming of age, and disaffection.

More than just a combination of three guitars, a bass, keys, and drums, along with the occasional harmonica and tambourine, The Pleasure Routine captures a sound – much like The Velvet Underground, The Brian Jonestown Massacre, and Nick Cave & the Bad Seeds before them – that is conflicted between optimism, realism, doom and darkness, as evidenced on their 2016 debut LP Sugar Mountain. Feverishly gigging around the Bay Area, The Pleasure Routine gained the attention of Ricky Maymi (The Brian Jonestown Massacre), who produced the sessions for Sugar Mountain, along with engineer Greg Ashley (Gris Gris). The collaboration proved integral to the development of the group, as Maymi helped The Pleasure Routine refine its sound. It also opened the doors to support more established acts like Palma Violets, Public Access T.V., and China's Carsick Cars.



Future Feats
-from Los Angeles, CA
-Before starting Future Feats, lead singer and songwriter Josh was at one of the toughest points in his life. His substance abuse was reaching a head and he was facing problems his wife that would eventually lead to their separation. He was left drifting while trying to break into the business and make the trek to LA. Josh doesn't sugar coat this period in his life — for him, it's essential to understanding the newest chapter in his songwriting career.

The band's first track from their upcoming debut album, "Cities in Wonder," takes all of this life experience and synthesizes it into pitch perfect power pop. It's an unexpected take on a difficult period, and a strong first impression for a band just getting their start.