Wednesday
March 28
2018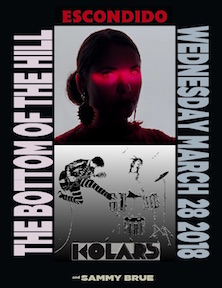 8:30PM

doors -- music at 9:00PM


••• ALL AGES




$

12

in advance

/ $15

at the door
Escondido

[co-headlining]


www.thebandescondido.com/


Soundtrack music \ Honky-tonk pop


KOLARS

[co-headlining]


<

He's My Brother, She's My Sister


kolarsband.com/


disco-inspired rockabilly = glam-a-billy


Sammy Brue
www.sammybrue.com/
Folk
---
Escondido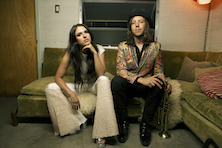 Jessica Maros,
Tyler James
-from Nashville, TN
-Escondido is Jessica Maros and Tyler James. Both long time Nashville singer-songwriters, the two met in 2011 during a late night session at James' home studio and bonded over shared love of Ennio Morricone's spaghetti western soundtracks. They recorded their debut album, The Ghost of Escondido, in a single day and released it on their own label, Kill Canyon, in 2013 to critical acclaim. "We wanted it to be like Clint Eastwood playing pop songs at one of the honky-tonks downtown," James mused. The duo's David Lynch approved sound became the soundtrack to multiple films and TV shows including HBO's Girls and led to appearances on CONAN and ABC's Nashville. The band toured extensively with the likes of Lord Huron, The Lone Bellow, and The Staves before releasing their sophomore album, Walking With A Stranger, in 2016. Following their first national headlining tours, Maros relocated to Los Angeles where the pair recently recorded their 3rd album, Warning Bells, with producer Rob Schnapf (Elliott Smith, Kurl Vile, Beck). The first single, Darkness, is out now.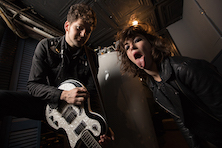 KOLARS
Rob Kolar, Lauren Brown
-from Los Angeles & Boston
KOLARS is a band of two members.
Rob Kolar sings and strums his rollicking guitar, Lauren Brown uses her whole body as a percussive instrument. KOLARS has created a sonic world that straddles self-described genres such as Desert Disco, R&Beyond, Space Blues and Glam-a-billy.
Rob produces, mixes, and writes the material. His studio experimentation is incorporated into the live show. Lauren has invented her own drumming style; she tap dances rhythms with her feet atop a bass drum while simultaneously playing a full stand up kit. She uses this dance to transform beats into natural extensions of her movement. The two perform with energy, sweat and excitement-thrilling audiences with their unabashed exuberance.

As former members of glam-folk band, He's My Brother She's My Sister, Rob and Lauren toured the U.S. and Europe extensively, playing some of the best stages and festivals, including Bonnaroo, Summerfest, Firefly, Voo Doo, Secret Garden Party, Austin City Limits and performed on late night television (Craig Ferguson). As the band veered towards indefinite hiatus, Rob and Lauren decided to strip things down and explore what they could do as a twosome. A match musically and romantically sublime, there's no denying the electricity this husband and wife duo have on stage.






Sammy Brue


-from Portland, OR


-Sammy Brue released his debut album I Am Nice June 16th, 2017 via New West Records to widespread critical acclaim, including a 4-star Mojo review that states, "...songs ranging from troubadour folk (I Know; Once A Lover) to unashamedly dreamy '60s pop balladry (Was I The Only One; I Never Said). Just the right blend of innocence and maturity, well-produced by Civil Wars' John Paul White and Alabama Shakes' Ben Tanner." The 12-song set was recorded at White and Tanner's Sun Drop Sound studio in Florence, Alabama. Already hailed as an "American prodigy" by Rolling Stone, the just-turned 16-year-old is a remarkable young talent. His catchy compositions embody the sort of wisdom, empathy and insight that is usually associated with more experienced songwriters and has caught the attention of The New Yorker, The Wall Street Journal, The Fader and more.