Friday
March 30
2018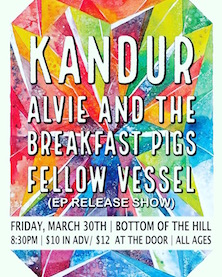 8:30PM

doors -- music at 9:00PM


••• ALL AGES




$

10

in advance

/ $12

at the door
Kandur
www.kandurmusic.com/


Alt-country folk western stoner rock


Alvie & The Breakfast Pigs
alvieandthebreakfastpigs.com/


.Garage Blues Punk Rock


Fellow Vessel


EP release show


www.fellowvessel.com/


Alternative/Rock/Indie



---

Kandur


-from San Francisco, CA


-When the political climate in his home of Istanbul started to take drastic turns for the worse, Ilker Kandur decided to relocate himself to one of the western world's most historically progressive locales, and the home of many of his musical influences, San Francisco.

Teaming up with Berkeley's legendary Fantasy Studios to handle production duties, Kandur was partnered with Dawn Richardson (4 Non Blondes, Tracy Chapman) on the drums and the pair immediately bonded over classic rock influences. The resulting EP, aptly titled Fantasy, features four heavy-hitting-yet-melodic alternative rock tracks that span the breadth of their creator's influences.

The music video for "Sail Away" was directed by Apo W Bazidi and filmed during the group's live performance at the Bottom of the Hill, a club that's chosen by Rolling Stone magazine (RS 813) as "the best place to hear live music in San Francisco".





Alvie & The Breakfast Pigs
Philp Thorneycroft, Jake Natkin Alvie Adams, Brandon Eisenberg
-from San Francisco, CA


-Originally from Tempe, Arizona but now tearing up the mean streets of San Francisco, Alvie & the Breakfast Pigs don't mess around. We play LOUD in your face rock n' roll. Full stop. Our music is best described as trash blues, or fast rock n' roll with punk and blues roots. The Pigs combine meaningful lyrics, in your face riffs, complex rhythms and an attention grabbing stage flair. If you love rock music from the psychedelic 60s through the pop-punk of present, the Pigs has something for you.






Fellow Vessel


-from San Francisco, CA


Fellow Vessel is an anthemic Indie rock band hailing from the San Francisco Bay Area. The band's resonant sound is comprised of the soulful and dynamic songwriting abilities of singer/guitarist Robin Sawaya, and amplified by the skilled drumming of Max Salmon, The guitar/keyboard work of Kevin Arquines and percise bass playing by Andrew Pannell. Together the magnetic and polished music they produce can be comparable to the likes of "Young The Giant" and "Kings of Leon"

Their public debut began in April 2017, when they released their first lively single, "Pretty Shade", and more recently, "Sequel". Since then, Fellow Vessel has accomplished releasing a music video of their first single, and are currently working on their first EP due to be released in March 2018.