Thursday
April
5
2018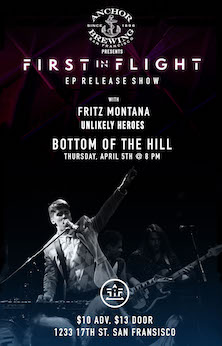 8:00PM

doors -- music at 8:30PM


••• ALL AGES




$

10

in advance

/ $13

at the door
First In Flight


EP release


www.facebook.com/firstinflightband/


Indie Pop / Dance Rock


Fritz Montana
www.fritzmontana.com/


Indie-Blues Rock


Unlikely Heroes -----

The Y Axes

canceled
www.uheroesband.com/


Hip-Hop/Punk Rock



---

First in Flight
Pat McCloskey | David Topete | Richard Mier | Max Huss
-from Milpitas, CA
-At the end of 2015, best friends Richard Mier (lead guitar) and David Topete (bass) looked at each other during a Walk the Moon concert and said "we can do this". After weeks of jamming in their gear stuffed rooms, they teamed with drummer Max Huss, who jumped over from David's brothers band, and found singer/songwriter Pat McCloskey through Craigslist (I know right?). Hailing from Chicago with a pretty falsetto and stories of too many bizarre nights, Pat brought the pop dynamic the band needed to project their neo-80s rock into the modern age. On September 1st 2016, the band was officially formed. With their new found chemistry, the band quickly began polishing their songs for the stage and studio. Their goal was simple: make the tracks for your party/kickback/heartbreak playlist. Their debut EP "HOLD ON THE HIGHS" was released January 6th and they look forward to tour the Western Part of the US in 2017.





Fritz Montana
David Marshall - Guitar/ Vocals
Kevin Logan - Bass
Matthew Hagarty - Drums
-from San Francisco, CA
-San Francisco based blues/indie rock trio Fritz Montana formed in early 2013 with the goal to create music that keeps your feet dancing and your head banging.

Growing up as products of the Bay Area's suburbs, three ambitious and passionate young men met on a whim and haven't looked back since. With their minds set on proving that rock and roll isn't dead, Fritz Montana burst onto the local music scene, securing a spot to open for Kings of Leon, Vampire Weekend, Queens of the Stone Age, AFI, Arctic Monkeys, and Capital Cities. This success quickly led to playing with other renowned artists, including Glass Animals, Royal Blood, The Strypes, Little Hurricane, and helped garner a spot on the 2015 BottleRock Napa lineup.

Staying true to their roots, these men have dedicated their lives to the betterment of American music and the creation of heart-melting soulful jams.




Unlikely Heroes
Enon Gaines - Lead Vocals
Atlix Martinez - Lead Guitar
Ruth Marin - Bass
Jeff Wilson - Drums
-from San Francisco, CA


-Unlikely Heroes is Hip-Hop/Punk Rock band from San Francisco, Ca. This eclectic group is synthesizing Hip-Hop and Punk with beats and melody that are fresh, exciting, and long waited for. Boasting with high energy, venue rocking jams, they also find balance with spacey, vibe-y anthems to create a well-rounded experience and depth in their art form. These Heroes truly cater to their "more than meets the eye" appeal. Aesthetically, they are a diverse group with a range of cultural and musical backgrounds. Sonically, they are insane Hip-Rockers that can cater to any crowd or venue without losing their Star Power in translation.