Friday
April 13
2018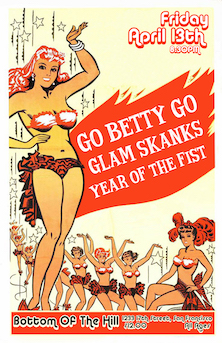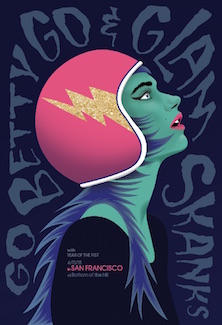 8:30PM

doors -- music at 9:00PM


••• ALL AGES




$

12


Go Betty Go
www.facebook.com/GoBettyGoOfficial


Pop Punk Rock


Glam Skanks
www.glamskanks.com/


Glitter Rock & Roll


Year Of The Fist


Rock, Punk Rock
---

Go Betty Go
Michelle Rangel
Betty Cisneros
Nicolette Vilar
Aixa Vilar
-from Los Angeles, CA
-When sisters Aixa and Nicolette Vilar attended Glendale High School circa 1999, they were just another pair of bored local teens who dreamed of achieving fame as rock stars. The result was their extraordinary all-Latina pop-punk band Go Betty Go, an outfit whose classic, stripped-down '77-style songs quickly established them as a popular force on the local rock circuit.

With Aixa on drums, Nicolette on the mic, the powerhouse guitar of Glendale's Betty Cisneros and bassist Michelle Rangel, Go Betty Go began a Tuesday night residency at Highland Park's Mr.T's Bowl that regularly packed in a horde of faithful fans. It was just the beginning.

Within a few short years, Go Betty Go had built a national reputation, were the subject of extremely favorable articles in numerous newspapers and magazines, did television and radio spots, earned a prominent spot on coast-to-coast punk rock road show the Warped Tour, had placed a song on the soundtrack of a Fantastic Four video game and, in 2005, released "Nothing is More," their second album. Those Go Betty Go gals were making it, big time, and just as it seemed the band's explosive success was going to take them to the very height of the business, Nicolette did the unthinkable, right in the middle of their tour with MxPx: She quit the band.

Seven years later, and almost as abruptly, comes the equally stunning news that Nicolette and the band are reuniting once again. While Go Betty Go continued performing, with vocalist Emily Wynne-Hughes and bassist Phil Buckman, the group has been on informal hiatus for two years.

It's safe to assume that quite a few local music fans remember Go Betty Go, and this reunion should be pure pleasure. The band's creative, passionate, bilingual pop punk is loaded with appeal, and their reunion to the music scene gives them the chance to pick up where they left off.





Glam Skanks
Ali Cat - Vocals
Veronica Volume - Guitar
Millie Chan-Bass
Cassie-Drums
-from Hollywood, CA
-GLAM SKANKS create a colorful audiovisual extravaganza using familiar tints from T Rex, The Runaways, David Bowie and The Sweet, with the drama of Alice Cooper and the genuine rock sensibility of Aerosmith, all wrapped up in a full-blown cosmetic Rocky Horror show meets Hedwig androgyny.
Pure entertainment and bigger than life, GLAM SKANKS are here to light up the world with their new release, GLITTER CITY. A rock and roll roller coaster ride in a blazing cloud of glitter and raining feather boas, GLAM SKANKS are high-energy, free-spirited and lusty, with a bravado that screams Sunset Strip dreams and Hollywood nights that never end. They will wake you up, smack you down, get your heart beating and your mascara running. Drag Rock for the masses.




Year Of The Fist
Squeaky, Katie Colpitts, hal9000 Beers & KT
-from Oakland, CA


-Year Of The Fist hails from Oakland, California where there has been no shortage of great musicians and bands to play with or catch live any night of the week. In 2011 four friends found themselves in a position to play in the same band instead of different ones. Together their musical backgrounds spanned the genres of blues, acoustic, punk, indie, country but all had the love for rock and roll. 2012 saw the release of their debut album "Death, Breath, Light, and Pain" that finally gave West Coast rock fans something new and different to enjoy from the cookie cutter bands and labels to date. The years following that release were met with building a following through numerous shows in small towns and big cities. Between shows and traveling came time to record a follow-up EP called "Dirty Laundry" that was released exclusively on vinyl in August of 2016.