Saturday
April 14
2018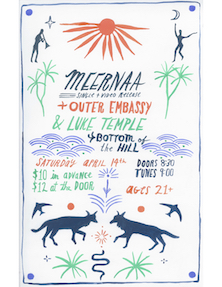 8:30PM

doors -- music at 9:00PM


••• 21 AND OVER




$

10

in advance

/ $12

at the door


Meernaa


(single & video release)


www.facebook.com/MEERNAAthefuture/


eclectic


Outer Embassy
www.facebook.com/outerembassy/


rock afro experimental groove kraut r&b


Luke Temple


(solo)


from

Here We Go Magic


www.facebook.com/LukeTempleMusic/


pop-folk



---

Meernaa
Carly Bond
Rob Shelton
Andrew Maguire
Doug Stuart
-from North Oakland, CA


-Meernaa doesn't fit squarely into a single genre; at times it feels like a fantasy designed by Solange and Grizzly Bear on mushrooms. Like a true spirit quest, Meernaa will allow you to let go of something you didn't know you were holding.






Outer Embassy
aaron deer
graham lebron
josh miller
-from Oakland, CA


-East Bay Cosmic Grooves






Luke Temple


(solo)


from

Here We Go Magic




-from Brooklyn, NY




-A Hand Through the Cellar Door is, in many ways, Temple's most straightforward collection of song-storying tunes to date. There are tales of dysfunctional, broken homes and of dysfunctional, broken people. "Birds of Late December," with its fluttering, nimble fingerpicking, paints an exacting but impressionistic portrait of divorce through the eyes of an exceptionally wistful child. In both "Maryanne Was Quiet" and "The Case of Louis Warren" we follow two characters whose lives unravel in very different ways, though their central question is the same: After you shed all the things you think make you who you are, what is left? Temple is creating small, confident stories with a massive scope. Yes, while the tales Temple weaves are bleak, the aura of hope never quite fades from the picture. He turns the tragedies of human folly into a celebration of our eccentricities.