Friday
April 20
2018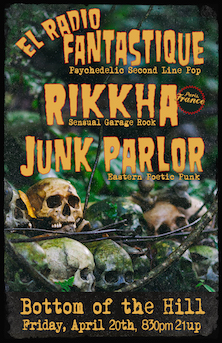 8:30PM

doors -- music at

9:00PM




•••

21 AND OVER




$

12

in advance

/ $15

at the door
El Radio Fantastique
elradiofantastique.com/


genre-defying pop alternative cabaret


RIKKHA
www.rikkha.com/


garage punk rock


Junk Parlor
www.junkparlor.com/


Rock/Junk



---

El Radio Fantastique
Giovanni DiMorente: Vocals, Flute, Guitar, Sax, Theremin,Percussion
Colin Schlitt: Bass, Vocals, Guitar
Gene Fisher: Drums
Robin Livingston: Piano, Vocals, Percussion, Guitar
Patrick Byers: Baritone sax,Flute, Guitar, Vocals
Liz Trombone: Trombone, Flugelhorn, Percussion
Emily Squirmbot Thundermouse Haltom: Violin, Vocals, Percussion
-from Point Reyes Station, CA
-El Radio Fantastique is the band that would be playing at Salvadore Dali's birthday party. They are the band that defies all labels and description, that floats effortlessly across genres while always conveying a sense of cinematic drama, reckless abandon, and broken beauty. Through lush arrangements, driving rhythms and pop hooks, the dynamic swell of emotion that emanates from this group is undeniably deep. If Anton Lavey, Frank Sinatra and David Bowie dropped acid in New Orleans and had an orgy with The Beatles, their unholy offspring would be El Radio Fantastique.

"The band hails from Point Reyes Station and is led by its founder, Giovanni Di Morente. Whether channeling disparate past experiences as a grave digger, dumpster diver, or pop star, DiMorente fancies the broken and the crooked, and he celebrates them with sublime melody and passion. Di Morente and the other members of El Radio Fantastique have bonds that go back to childhood. This deep connection manifests itself in their sound and in the familiar spell they cast onstage."




RIKKHA
JULIETTE DRAGON : LEAD VOICE
SEB LE BISON : GUITAR, LEAD VOICE
HERVE HAINE : BASS GUITAR
SCREAMING JOY HARVEY : DRUMS


-from Paris, France


-

The band identity is made of a well balanced mix of several influences including Garage Rock and Cabaret.

Since 2011 the band has released 2 EP's (Kitten on Wheels, Covers) and one album (Nuit Fatale), Their music and visuals are made of cinematographic atmospheres. It depicts the glory of a wild womanhood, seductive and savage. Tarantino, Rodriguez, Burton are inspiring Rikkha with their heroines and comics monsters haunting each one of their song. Prime mover of the project, Seb le Bison, music producer, composer, musician and aesthete joins forces with Juliette Dragon, queen of the Parisian nights and pioneer of the Burlesque movement in France. Together they create an astonishing stage cocktail helped by Lady Machine, killer of bass frequency and Screaming Joy Harvey, mighty wizard of rhythm. Rikkha live is a real Punk'n'roll cabaret inspired by pin-ups, superheroes and zombies from Z movies. Their californian nickname is: "The French Cramps"




Junk Parlor
Jason Vanderford, Rt Goodrich, Tim Bush, Laela Peterson-Stolen
-from Oakland, CA
-A galvanizing force on the Bay Area indie rock scene since launching serendipitously in 2013, Junk Parlor is that crazy-rare band whose vibe is so driven by joyful schizophrenia that it transcends easy genre trappings. Junk Parlor is an adventure down a path paved with eastern european, bohemian, vintage bellydance melodies and our own brand of moody, haunting originals. Leonard Cohen-esk vocals and poetry, acoustic manouche jazz guitar, ripping violin, cajon, percussion, fretless electric bass, all come together to paint a fantastically edgy dream scape. We have been described as "Crooner Punk" by our fans and are often compared with Nick Cave, Tom Waits and Gogol Bordello.
Jason Vanderford leads the band with vocals and acoustic guitar, accompanied by Laela Peterson's moody viola and violin, Tim Bush's growling fretless electric bass and Robin Goodrich's swaggering beat….. A dream on the edge of a cliff.