Saturday
April 21
2018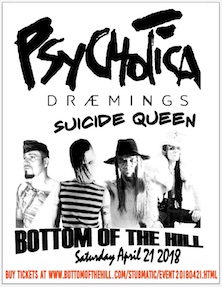 8:30PM

doors -- music at 9:00PM


••• 21 AND OVER




$

13

in advance

/ $15

at the door
Psychotica
www.facebook.com/psychotica777/


glam rock goth industrial


Draemings
www.draemings.com/


dark pop


Suicide Queen
www.facebook.com/suicidequeenofficial/


industrial metal goth



---

Psychotica
Pat Briggs, Paul "Ena" Kostabi, Enrique Cris Tiru Velez
-from New York, NY


-






Draemings
Kimi & Chris & Thorson & Nathaniel
-from The Realm of Drĉms
-Like all great bands, DRĈMINGS began as an outlet for heartbreak – the opening track of their debut EP, Nevada, repeatedly pleads "oh stay with me / please stay with me" – and has spent the last several years evolving from vocalist, multi-instrumentalist, and sometimes-producer Kimi Recor's alter ego into a tightly knit band of four whose new EP explores the many ways you can find your voice and mine your own inner strength. This drastic change in theme reflects not only the similarly drastic changes in the world as a whole, but also this movement away from a single spotlight and toward a group effort.

Their self-titled 2017 EP is akin to a rebirth for DRĈMINGS and brings Recor back to her band-oriented roots, cementing DRĈMINGS as a four piece comprised of herself (vocals/guitar), Thorson (bass/synth), Christopher Vick (guitar), and Nathaniel Meek (drums). The band returned to being independent (the EP will be released on Recor's own PLAG Records) and wrote DRĈMINGS as a collective, self-titling the EP to make that point clear to listeners. Thorson stepped forward to helm the production and mixing of all six tracks in his Underwater Studios. From the heavy, thrumming bassline in "Fire in Hell," to the dancefloor-worthy "Great Escape," to the crooning Enya-esque EP closer, "Tides," there really is something for everyone on DRĈMINGS, all without losing the band's trademark sound that ties it all together.





Suicide Queen
Kay Dolores - Vocals and programming
Michael Vile - Synthesis
Celeste St. Muerte - Bass
Todd Buller - Guitar
Mark Davis: Drums
-from Oakland, CA


-"Carrying on the industrial torch with sounds resonating from the likes of Ministry and Skinny Puppy, Suicide Queen are definitely making beautiful noise." –Meikee Magnetic, Dark Beauty Magazine.