Sunday
April
29
2018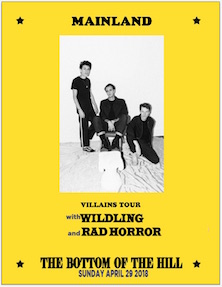 8:00PM

doors -- music at 8:30PM


••• ALL AGES




$

12

in advance

/ $15

at the door
Mainland
www.mainlandnyc.com/


Alternative


Wildling
www.wildlingmusic.com/


Rock


Rad Horror
www.radhorror.com/


alt-grunge



---

Mainland
Jordan Topf, Corey Mullee, Alex Pitta
-from NYC/Los Angeles, CA
-Equally influenced by vinyl collections that range from Springsteen to Cold War Kids and the works of poets such as Lou Reed and William S. Burroughs, Mainland finds elegance in simplicity. Throughout their music, shuddering piano and loose guitar augment bare bones pop hooks. It's a style that's been carefully refined to perfection over the years and especially so since the boys traded New York City (the place of their meeting) for California (where all three respectively call home).

In many ways, the Golden State always subconsciously called back to them. Mainland first met in NYC, bonding over their shared roots. After independently releasing their Shiner EP in 2014, they landed a deal with 300 Entertainment as one of the label's marquee rock acts. Following the release of the Outcast EP in 2015, they hit the road with the likes of Melanie Martinez and Jukebox the Ghost.

Along the way, they released fan favorite singles such as "Beggars", "Outcast", and "Permission Slip"—which each amass over 1 million Spotify streams each. Between touring, the musicians recorded the songs comprising their 2018 full-length debut led by "I Found God."

Now, this scene is about to get a lot brighter. The warmth of Mainland's new music truly feels like home.

"We got some fresh perspective by going back to California," Topf leaves off. "Being in our new surroundings that were familiar, yet so different really influenced the album. We want to make music that fulfills us on a personal level. These songs are heart-on-your-sleeve. This is the arrival of who we are as a band."

With the rush of piano chords and uplifting lyrics resound as real-world couples of all races and creeds come together in one another's embrace on the street of a non-descript American suburb. In this day and age, it's beautiful in its stark absence of agenda. This is not a statement. This is not a commentary. This is not a judgment. Rather, this is a timeless slice of life and true love communicated through sound and visuals. This is something that never goes out of style. This is the music video for "I Found God" the 2017 single from California trio Mainland—Jordan Topf [vocals, guitar], Corey Mullee [guitar, keyboards], and Alex Pitta [bass]. Directed by female duo SIMILAR BUT DIFFERENT, this visual introduces the next phase in the career of these three best friends, and it merely hints at the power, passion, and poetry of their songwriting.

"'I Found God' is about the spiritual connection that arises when you experience real love — an emotion so strong it unifies humans from all walks of life," explains Topf. "It's simple. Love is love. The power of love sees no boundaries and it transcends race, sex, and identify."





Wildling
Ryan Levine (lead vocals)
Justin Levine (bass)
Andrew Ampaya (keys / vocals)
Erik Janson (guitar / vocals)
Casey Brothers (drums)
-from Los Angeles, CA


-Wildling write the sort of melodic, heartfelt, indie rock n' roll that is sure to put them in class with the greats. From the huge, in-your-face chorus of "Hummingbird," to the softer river of sound found in "Change Your Mind," this California 3-piece deliver songs that make a very strong statement for an up and coming band. The band's members are no strangers to the music game. Singer, Ryan Levine, has been playing music with piano/keys player Andrew Ampaya for over 10 years. Though they've had a few different bands together, and one major record deal behind them, it is clear that Wildling is the project Ryan & Andrew are meant to be doing. With the addition of bassist Justin Levine, Ryan's brother, Wildling took shape and immediately headed into the studio. With traces of legends like Fleetwood Mac and Paul Simon, to current favorites such as The Black Keys and Young the Giant, it's easy to see why people are starting to talk about Wildling as a band to watch out for.






Rad Horror


-from New Jersey


-Every once in a while, a new band emerges that is "scary" good, which is an appropriate description for Dylan Scott's latest project, Rad Horror. As I said earlier, Dylan used to play with Young Rising Sons, but has also achieved noteworthy success, having co-wrote Halsey's album, Badlands, which debuted at number two on the Billboard 200 charts and is now certified Platinum in the U.S. Dylan is currently terrorizing fans with Rad Horror, a talented four-piece new wave group, whose members all hail from Jersey. Joining singer and guitarist Dylan in the band are guitarist and trumpeter Rob Cruz, bassist Paul Kartelias, and drummer Ant Peterpaul. Rad Horror seems to effortlessly combine a new wave sensibility with Dylan Scott's low range vocal reminiscent of the late Jim Morrison, something pop music has been begging for since the death of the vinyl record.

Rad Horror recently released their first single, "Take Me Back to Your House," with a video soon to follow. Their other single "The Magic and the Melancholy" perfectly showcases Scott's brooding low tenor vocal. The quartet also released their melodramatic cover of the Chainsmokers song "Closer," brilliantly set inside the theme of Netflix hit series, Stranger Things. If Rad Horror continues on the path toward their goals, they will soon be one of the top bands to come out of Jersey. I'm without a doubt curious to check Rad Horror out live.