Monday April 30
2018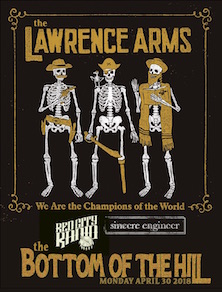 8:30PM

doors -- music at 9:00PM


••• 21 AND OVER




$

18

in advance

/ $20

at the door
The Lawrence Arms
www.lawrencearms.org/index/


Punk rock


Red City Radio
www.redcityradio.net/


Emo pop punk rock


Sincere Engineer
www.facebook.com/SincereEngineer/


punk emo revival



---

The Lawrence Arms
Chris McCaughan - guitar, vocals
Brendan Kelly - bass, vocals
Neil Hennessy - drums
-from Chicago, IL
-The Lawrence Arms are an American punk rock band from Chicago, Illinois, formed in 1999 and currently recording for Fat Wreck Chords. They have released five full-length albums and toured extensively. Their music and lyrics juxtapose references from history and literature with American pop culture.

Prior to forming the Lawrence Arms, the three band members were active in other Chicago-area bands. Brendan Kelly had played in the ska punk band Slapstick alongside Dan Andriano, who would later join Alkaline Trio (the two would reunite in 2004 to form The Falcon). Chris McCaughan had played in Tricky Dick before joining Kelly in The Broadways. McCaughan and Kelly also shared an apartment together on Chicago's north side. Neil Hennessy, meanwhile, had played in a band called Baxter. Both Slapstick and the Broadways released albums on Asian Man Records, a small record label based in Monte Sereno, California that would later release albums by the Lawrence Arms.

The three musicians came together to form the Lawrence Arms in 1999, taking their name from the apartment complex in which Kelly and McCaughan had lived before being evicted in the middle of the night. Although punk rock bands in their infancy generally start out by releasing EPs and 7" vinyl singles, the band members used their existing relationship with Asian Man Records to immediately begin recording a full-length album, A Guided Tour of Chicago, which was released later that year. A second album, Ghost Stories, followed in 2000. Both albums focused heavily on the members' own stories of growing up and living in Chicago.
The band's next two releases were split EPs with other bands. The first, a split with Shady View Terrace, was released in 2000 and was their first release to be recorded by Matt Allison, who would continue to record and produce all of their subsequent releases. A second EP, Present Day Memories, was released in 2001 and was a split with The Chinkees.

The band's records and touring schedule had brought them to the attention of Fat Mike of NOFX, who signed them to his Fat Wreck Chords label in late 2001. Their first release on the label was a 7" vinyl single, part of the label's "Fat Club" series of 7" records. This was followed by the full-length album Apathy and Exhaustion, released in 2002. The album spawned the band's second music video, for the song "Porno and Snuff Films," and they toured extensively with NOFX and other bands from the Fat label.

Their next album was 2003's The Greatest Story Ever Told. Their most ambitious album to date, it demonstrated the band members' continued growth as musicians and songwriters and included extensive footnotes to the lyrics detailing their many references to history, literature and pop culture. It also showed an evolution in the band's vocal style. Kelly had sung most of the vocals on their first album, while on subsequent releases he and McCaughan had split vocal duties almost equally from one song to the next, with Kelly's voice tending to sound more harsh and urgent while McCaughan's sounds more relaxed and melodic. With this release, however, the two began to move towards more of a duet style of singing which would feature prominently on their next album. Extensive touring following the album's release saw the band on the road for much of 2003 and 2004. They also contributed a song to the Fat Wreck Chords Rock Against Bush, Vol. 2 compilation, leading up to the 2004 presidential election and became involved with the Punk Voter campaign.
The Lawrence Arms also played a portion of the 2004 Warped Tour, but the band's attitude towards the tour resulted in controversy. In a 2006 interview, Kelly claimed that the band "did like seven days of it and we got kicked off it, banned for life" for "pointing out the obvious flaws of the Warped Tour, on stage while the people running the Warped Tour were watching us."

n June 2009 The Lawrence Arms recorded a new studio EP. Titled Buttsweat and Tears, it was released on October 27 of that year through Fat Wreck Chords both as a 7" EP and as a digital download with an extra song. They then went on a tenth anniversary performance in October at the Metro Chicago, followed by a seven-date headlining tour of Arizona and California in November with Teenage Bottlerocket and Cobra Skulls as support.





Red City Radio
Garrett Dale
Dallas Tidwell
Jonathan Knight
Ryan Donovan
-from Oklahoma City, OK
-If, as the saying goes, life is less what happens to you and more how you deal with it, RED CITY RADIO have succeeded in spades, insatiable in their heart and singular focus.

Since forming in 2009 in Oklahoma City, Red City Radio have proven their punk-rock proficiency, turning in beloved albums (2011's The Dangers of Standing Still and 2013's Titles) and winning over fans around with the world with a sweat-soaked, raved-about live show honed by years of touring along acts like Strung Out, New Found Glory, and Anti-Flag.

But the band— Garrett Dale, guitarist Ryan Donovan, drummer Dallas Tidwell and bassist Jonathan "Jojo" Knight—are evolving, both professionally and personally: Red City Radio marks the group's first album for Staple Records (after years spent with Paper + Plastick)

The new contrast between Dale's gruff tenor (now the sole lead voice) and an increasingly rock-based musicality gives Red City Radio an innately fascinating dynamic. As such, songs like the power pop-leaning "Two Out Of Three Ain't Rad" and slow-burning, country-tinged "… I'll Catch A Ride" showcase the band's newfound versatility and expand the definition of just what a Red City Radio song can—and should—sound like.

It's this nuance and nimbleness that makes Red City Radio such a stirring listen. Named one of the most anticipated albums of 2015 by Fuse and VICE - hailed by outlets like PunkNews, also receiving 4 out of 5 stars from Rolling Stone, the album isn't wholesale change, but rather the sound of a band expanding its influence and stepping outside itself to keep pushing forward. A sound once reminiscent of punk stalwarts like Hot Water Music has now swelled to include hooky rock á la Foo Fighters and Jimmy Eat World, and even Dale's love of country.




Sincere Engineer


-from Chicago, IL




-Deanna Belos has been a fixture in the Chicago punk scene since she was in Junior High, attending shows, singing along, and raising hell in general. But she was more than just a face in the crowd, Deanna was a radiant friend to all, and at some point she picked up a guitar and made a different contribution the Chicago underground scene: her own music under the name Sincere Engineer. Over the last couple years we've encouraged her to keep writing songs and she surprised us all by assembling a great band and recording an impressive album. Her debut, "Rhombithian", was produced by Matt Jordan (You Blew It!, Dowsing, etc.) and pairs the sounds of Chicago punk and the youthful Midwest "emo revival" movement. No one is more excited about music than Sincere Engineer, and Deanna plans to play a lot of shows and bring her infectious energy to the rest of the planet in support of "Rhombithian".