Saturday
May 19
2018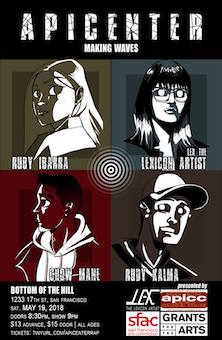 8:30PM

doors -- music at

9:00

PM




••• ALL AGES




$

13

in advance

/ $15

at the door
Ruby Ibarra
www.rubyibarra.com/


Hip Hop


LEX The Lexicon Artist
thelexiconartist.com/


weird smart rap / comedy / nerdcore


Chow Mane
www.chowmane.com/


Hip-Hop


Rudy Kalma
www.facebook.com/RudyKalma/


Hip-Hop



---

Ruby Ibarra


-from San Lorenzo, CA


-Ruby Ibarra is a rapper and spoken word artist from the Bay Area, CA. She released her first mixtape, Lost in Translation, in December 2012, which was hosted by DJ Kay Slay and premiered on Shade 45 Radio. She has been featured on noted web-based publications such as NPR, Huffington Post, Buzzfeed, XXL Magazine and MTV & VH1's blogs. She released her full-length debut album titled CIRCA91 on October 3, 2017. The new album is available on all digital platforms. For more of her music, please visit: www.rubyibarra.com.





LEX The Lexicon Artist


-from Oakland, CA


-LEX the Lexicon Artist is Taiwanese third-culture kid, UC Berkeley graduate, and Oakland-based entertainer Alex Sun Liu. Inspired by weird internet rappers, the Lexicon Artist draws on the rising brand of smart comedy rap. She combines bizarrely funny storytelling, complex rhyme schemes, personal lyrics, and sharp-witted commentary to deliver the unique perspective of a millennial Asian transplant living in the Bay Area.

LEX's style is a combination of early 2000's hip-hop hot shots, viral pop sensations, heavy/nu-metal/punk, and internet rapper antics - all rolled together to tell the most irreverent stories possible.






Chow Mane


-from San Jose CA


-Chinese rapper and dumpling whisperer. Chow Mane is a Chinese American rapper from San Jose, California. His versatility in producing and rapping is highly influenced by Lil B, Lil Wayne, and Ronald Takaki. His lyrics draw deeply from his experience as an Asian American, touching on topics of identity, culture, and especially food. His offbeat production style guarantees that no two songs of his sound the same.

Chow has just released his debut EP, "Mooncakes," and is generating buzz in the Bay Area Asian communities. He has recently performed a sold out show headlining his "Mooncakes" release party in San Francisco. Now based in Oakland, California.




Rudy Kalma


-from Daly City, CA


-Rudeboi making funky tunes for your pleasure!

Rudy Kalma (Born September 1, 1994) is a Filipino-American artist and songwriter. Born in the Philippines and primarily raised in Daly City, California, Rudy pens introspective lines which are reinforced with impactful cadences. As of 2015, he has affiliated himself with the Rogue Wav Collectiv, a band of creative minds looking to expand their talents and reach global audiences. With his honest energy and lyrical stamina, Rudy outlines his worldly observations.