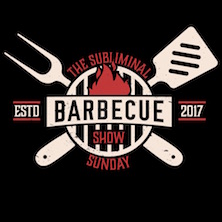 Sunday June 3

2018




2:00PM

doors -- music at 3:00PM


••• 21 AND OVER




$

10




Iron Man Moving & Subliminal SF

presents...


The Subliminal Sunday BBQ show


Free BBQ food: Burgers, dogs, and more!


Grayceon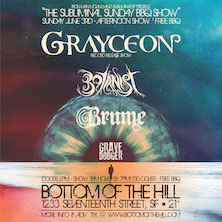 (Record release show)


www.facebook.com/grayceon/


metal


Botanist
www.facebook.com/Verdant.Realm.Botanist/


green metal


Brume
www.facebook.com/brumeband/


Stoner/Doom/Metal/Psychedelic


Grave Dodger
www.facebook.com/gravedodger/


metal punk skate rock



---

Grayceon
Max Doyle - guitar
Jackie Perez Gratz - cello/vocals
Zack Farwell - drums
-from San Francisco, CA
-The San Francisco/Bay Area has long been regarded as a key hub for cultural diversity and liberated artistic creativity, so it comes as no surprise to observe an ambitious group such as Grayceon rise from the crux of this nerve center and truly flourish. With each subsequent release, the band continues to progress and strengthen their acclaim through a gritty determination to regularly challenge extreme music's confines.

Over the course of 12 years, four proper full-lengths and one EP, this trio comprised of little more than one guitar, one cello, and one set of drums has managed to tackle the full spectrum of heavy music's extensive clutch of emotions. Pummeling sludgy metal quickly carves into fiery post-punk that's knotted within epic experimental rock, and it's all blanketed with the additional allure of ample use of mellow stretches to fully round out the pattern. Words such as "enterprising," "unconventional" and "dynamic" have all been utilized in an attempt to encapsulate the band's overall design, but the absolute consensus remains: Grayceon thrives as a splendid anomaly amongst an ever-increasing sea of peers.

Grayceon continues to hammer forward and deliver in spades for those who thoroughly enjoy being challenged by a truly progressive band. Hop in, listen up, and enjoy the ride.





Botanist
Otrebor (dulcimers)
Toorpand (bass)
Daturus (drums)
Cynoxylon (vocals + harmonium)
-from San Francisco, CA
-The songs of Botanist are told from the perspective of The Botanist, a crazed man of science who lives in self-imposed exile, as far away from Humanity and its crimes against Nature as possible. In his sanctuary of fantasy and wonder, which he calls the Verdant Realm, he surrounds himself with plants and flowers, finding solace in the company of the Natural world, and envisioning the destruction of man. There, seated upon his throne of Veltheimia, The Botanist awaits the time of humanity's self-eradication, which will allow plants to make the Earth green once again.

Botanist's message is of hope, of faith in the power of the Natural balance, one that transcends humanity's self-seen importance and places us all in a truer place in the universal picture. Botanist believes that although mankind is destroying the Earth's natural environment, humanity cannot destroy Nature permanently. Humanity can destroy Nature only for humanity, meaning that even if all life, including humanity, has been eradicated, Nature will bounce back. Something will exist out of nothing, just as it always has, and that something will exist whether humanity is a part of it or not.

Botanist believes the world is the most valuable thing in the world. The most essential thing. Nature offers the truest, most tangible vista into the face of the divine, whose unnamable, unknowable existence is reflected through our natural environment. If we want to enjoy this world, to venerate it, to thrive within it, we must respect it, we must protect it, even if it's only for our personal benefit. If we don't, if we annoy the Earth enough, the Earth will kill us and move on. What choice will we make?






Brume
Susie - Vox/Bass
Jamie - Guitar
Jordan - Drums
-from San Francisco, CA
-In a world where everything travelled at the speed of sludge, Brume were united by a love of the riff in San Francisco at the beginning of 2014. Jamie McCathie (guitar) moved to California, leaving his UK sludge band Gurt in London but knew as soon as he met Susie McMullan (vox/bass) they'd make music. Instantly bonding over bands like Sleep, Windhand and The Melvins the two got to writing. Arising from the fog came Jordan Perkins-Lewis (Drums), who's unique 'Mr Bungle'esque inspiration rounded out the songs, taking each idea and creating something beyond heavy. The trio headed into Sharkbite studios in Oakland (Sleep, High on Fire, Acid King) to create there first record at the end of 2014, combing fuzz soaked stoner metal, haunting ritualistic vocals and crushing slow and low doom.






Grave Dodger
Dave Fallis- Bass and Vocals
Guy Alvarez- Drums
Shane Bergman-Guitar
Adam Delaware- Guitar
-from San Francisco, CA


-What do we sound like????.......Like Thin Lizzy riding a skateboard to hell!!!!