Saturday June 9
2018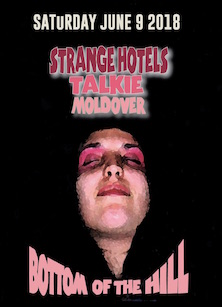 8:30PM

doors -- music at

9:00

PM




••• ALL AGES




$

12

in advance

/ $15

at the door
Strange Hotels
members of

The Lower 48


strangehotels.bandcamp.com/release


dance indie pop rock'n'roll

-----

Blackbird Blackbird

canceled
Talkie
www.talkiemusic.com/


alternative rock


Moldover
moldover.com/


drum & bass electronic metal rock blues



---

Strange Hotels
members of

The Lower 48


-from Portland, OR
-

The beginning of a fresh new year seems like the perfect time for a brand new band to release their debut album. But Strange Hotels new six track EP, Mixtapes, defies what you'd expect from a new band- it has the polish and shine that usually comes from more experienced bands. That's because the duo, consisting of multi-instrumentalists Ben Braden and Nick Sadler, has been playing together for years as part of one of Portland's iconic touring bands, The Lower 48. Their new project, Strange Hotels, is a departure from the harmony-driven rock of the Lower 48. Strange Hotels style is hard to pin down, spanning from disco to world beats, with a consistent danceability that inspires booty shaking, dancing, and smiles. Their diverse influences include Prince, The Strokes, LCD Soundsystem, St Vincent, and Sylvan Esso, but I also hear a touch of Michael Jackson and Hall & Oates

.





Talkie
Chris, Eric, Matt and Brad
-from San Francisco, CA
-It was the fall of 2014. There we sat at Rock Bottom; no, not a low-point of existence, but rather a local establishment of fine dining with a rather depressing moniker. We heard a whisper: "Hablas." Puzzled and in desperation we inquired, "¿Hablas? ¡Estamos muy nervioso, no entendemos español!" And yet, the Spanish whisper lingered in the air: "Diles de mi historia. Deje tu montaña y ofrecer la palabra al pueblo." How could we refuse?

After several months of isolation and secrecy, we emerged with the makings of a new record. Pero, ¿dónde iremos? ¿Quién podría comunicar esta pieza? ¿Quién entenderá los misterios y milagros de este mundo que hemos visto? No one. No one, that is...but us. And so, we built a recording studio in a barn and set out to record, re-record, mix, ctrl-z, mix again, and master a new album entirely by ourselves in the summer of 2015. Little did we know that we'd be making our greatest double LP to date.

De nada, Planet Earth.

"You've heard it in inglés, you've heard it in español. It is with great pride and bravado that Talkie bring you the follow-up to their CMJ debut: the double-LP experience, Hablas. Clocking in at just under an hour, the entire project was produced in seclusion at Headfone Audio -a new studio facility built and operated by the band."





Moldover
Moldover
-from San Francisco, CA
-"A musician at heart, inventor born of curiosity, and innovator by necessity, I believe the world calls him the 'Godfather of Controllerism' for damned good reasons". -John Tackett, Crowd Wire

History notes only a handful of artists who successfully pushed the limits - both with their music and with the design of their musical instruments. What Bach was to the keyboard and Hendrix was to the guitar, Moldover is to the controller. Disillusioned with "press play DJs", Moldover fans eagerly welcome electronic music's return to virtuosity, improvisation, and emotional authenticity. Dig deeper into Moldover's world and you'll uncover a subversive cultural icon who is jolting new life into physical media with "Playable Packaging", sparking beautiful collaborations with his custom "Jamboxes", and drawing wave after wave of followers with an open-source approach to sharing his methods and madness.-

Four Track is Moldover's newest album, which follows the success of his eponymous debut record and the live mashup mixes that first brought him to prominence. Inspired by the honest simplicity of the songs he wrote as a teenager, as well as recent experiences of lost love and family tragedy, Moldover has painstakingly alchemized a dozen new songs, equally heartfelt and magnetic. Merging rich vocal harmonies, organically twisted guitar textures, and meticulously sculpted beats, Four Track is a compelling bridge from the digital sounds of glitch-hop, complextro, and neuro-funk to the familiar sounds of roots blues, metal, and grunge rock. Whether near Moldover's home base of San Francisco, or his oft-travelled paths across North America and Europe, the artist is equally comfortable sharing his craft at underground parties and major international festivals including Sonar, Mutek, and Coachella.