Sunday June 10
2018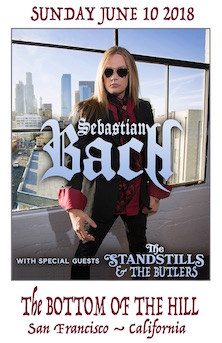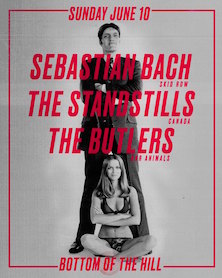 7:30PM

doors -- music at 8:00PM


••• 21 AND OVER




$

25

in advance

/ $30

at the door
Sebastian Bach
original voice of

Skid Row


www.sebastianbach.com/


Rock & Roll


The Standstills
www.thestandstills.com/


Rock & Roll


The Butlers


(members

of

Jetboy

,

Death Angel

,

Ruffians

, &

Exodus

)


www.butlerssf.com


Rock & Roll



---

Sebastian Bach
Bobby Jarzombek: Drums
Brent Woods: Guitar
Rob DeLuca: Bass
-from Ontario, CA
-Sebastian Bach is a singer, songwriter and actor hailing from Ontario, Canada who was born on April 3rd, 1968. Best known as the lead singer of Skid Row, he has also released three solo albums and appeared as an actor in everything from Robot Chicken to Jesus Christ Superstar.

Born Sebastian Bierk and raised in Peterborough, Ontario, Sebastian Bach's music career began at the tender age of 14 when he joined a local hard rock band by the name of Kid Wikkid in 1983. However, that band would only last until 1985, and after they split Bierk began singing wherever he could, and in 1987, that took him to rock photographer Mark Weiss's wedding. Also attending the wedding were members of the New Jersey glam metal band Skid Row, whose singer had recently left the band. They were all impressed with the 18 year old up on stage, and shortly after the wedding, they asked Bach to join the band, which he gladly accepted. Skid Row went on to become the last truly enormous glam metal band before grunge arrived and shut it all down, with their self-titled debut album going five times Platinum within months of its release.

Of course, Skid Row wouldn't have been a true glam metal band without inner tension and pettiness, and it all came to a head in 1996, when Bach booked a show for the band opening for KISS. The other band members resented this, claiming that the band were too big to open for anyone, and the resulting arguments lead to Bach leaving the band in the same year. Ever since then, Bach has succeeded in everything he's tried his hand at, from his solo career which began in 1999, a Broadway career which began a year later in the title role of Jekyll And Hyde and a screen acting career that's seen him show up in everything from The Trailer Park Boys to Spongebob Squarepants. He's one of heavy metal's great survivors, and thirty years after his first foray into rock music, he still comes highly recommended.






The Standstills
Jonny Fox- (Vocals/ Guitar)
Renee Couture- (Drums/ Percussion)
-frtom Oshawa, ON, Canada
-The Standstills highly anticipated full length album "Badlands" is about defining their craft and broadening their horizon. "It's a mixed bag of sexy psychedelic, guitar driven, outlaw rock and roll" lead singer and guitarist Jonny Fox declares. Drummer and singer Renee Couture defines the record as "If Clint Eastwood had a sound". The Canadian rock duo is already off to a great start with their latest single "Wild" released March 30th, featuring a co-write with Three Days Grace member Neil Sanderson. The track is a hypnotic high-powered number with a magnetic and gritty guitar lick, featuring Couture's mountainous drums all topped with Fox's dynamic and vigorous vocal. The Standstills have paired these elements seductively with psychedelic imagery, putting this duo in the sights of trend setters and hard rockers alike.

This record follows the success of their 2015 EP "From The Devil's Porch featuring "Orleans" which reached #4 on BDS active rock charts in Canada and "Rise of the Fall" also reaching top 10 in Canada. As a result, The Standstills were awarded Best New Rock Group at the Canadian Radio Music Awards. The album also received over 1.4 million streams globally and the band performed extensively across Canada with acts such as Pop Evil, Billy Talent, Theory of a Deadman, Seether, Eagles of Death Metal and many more.

More notably The Standstills accomplished their first arena tour across Canada supporting Our Lady Peace and I Mother Earth. "It was an amazing experience to perform alongside two legendary Canadian bands on home turf. We learned a lot on that tour and we are really grateful to all the fans who interacted with us and connected to our music". Says Couture.

The Standstills have since taken their first steps into the international market performing at the legendary Viper Room in L.A, New York and a sold out performance in one of Europe's most prominent music festivals, Reeperbahn held in Hamburg Germany. There is much to look forward to from this masterful duo, as their unique style of rock speaks volumes in today's vast musical landscape.






The Butlers
Graham Butler - Vocals,
Billy Butler - Guitar,
Craig Butler - Guitar,
Mike Butler - Bass,
Andy Butler - Drums
Michael Butler II - Keys
-from San Francisco, CA


-Featuring members & ex-members of Jetboy, Death Angel, Exodus, Ruffians, Immigrant & American Heartbreak, The Butlers are a Rock 'n Roll band out for nothing more nor less than a good time. These boys always deliver a raucous set of all your favorite rock tunes from the 70's with a constant flow of all-star guests; members of Ted Nugent, Alice Cooper, Chuck Prophet, The Blasters, Machine Head, Fuel, Tesla, Death Angel, LA Guns, Testament & Fang have all sat in with the band. On this pedigree, The Butlers have become known as The Vintage Rock n Roll party on 10 legs (sometimes 12).