Tuesday
June 12
2018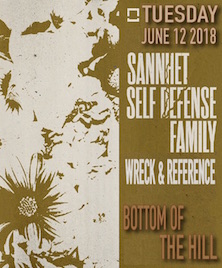 8:30PM

doors -- music at 9:00PM


••• ALL AGES




$

13

in advance

/ $15

at the door
Sannhet


post-metal post-rock shoegaze

[co-headlining]


www.facebook.com/sannhet/
Self Defense Family


postpun

[co-headlining]


www.facebook.com/selfdefensefamily/
Wreck & Reference
www.facebook.com/wreckandreference/


dark noise rock post-metal



---

Sannhet
Christopher Todd - drums and samples
John Refano - guitar and loopers
AJ Annunziata - bass guitar and visuals
-from Brooklyn, NY
-The cover of Sannhet's third album, So Numb, features a mother shielding her son's eyes with her hands - an allegory depicting the protection one receives from their parents, but it isn't meant to be sentimental. As the mother shelters her child, she inadvertently creates a false sense of safety. The child, in turn, spends it's life seeking comfort and escape in temporary solutions.

Though Sannhet meditate on life's imperfect escapes, So Numb's nine songs showcase the band facing life's pain and joy with their eyes wide open. The collection's emotional landscape is one of existential dread, melancholy, and loss - ammunition for escapists. Despite these existential conundrums, So Numb has an uplifting, euphoric feel.

The collection was recorded and produced by Peter Katis, who's known for his work with Mercury Rev, Interpol, the National, and Oneida among others. Working with Katis, the production illuminates a more open sound for the band. While Sannhet's second album, 2015's Revisionist, was bigger and harsher than their 2013 debut, Known Flood, they offer a more wistful, melodic approach here.

The first track, "Indigo Illusion," opens with Christopher Todd's eviscerating, but anchoring drums locked in with AJ Annunziata's driving bass and John Refano's clamoring, unexpectedly coaxing guitar melodies—the song, a muscular anthem that mixes feedback and space, ends up sounding like a million crystals shattering in a dark room. Alternately, the heavier, more solemn and cavernous "Fernbeds" finds added pathos from guest guitar leads by one-man shoegaze-metal artist, Planning for Burial's Thom Wasluck.





Self Defense Family
Patrick Kindlon,
Andrew Duggan,
Mary Brulatour,
Chris Tenerowicz,
Alan Huck,
Mark O'Brien,
Benjamin Tate,
Ian Shelton,
Mike Bingham,
Kai Stone,
Mathew Morand
...to name few...
-from Cohoes, New York


-The thing that almost always comes up when discussing Self Defense Family is the band's prolific nature. It seemingly releases a new record every other month, and while that can be seen as a challenge to a casual listener, it also offers limitless rewards for those dedicated to hearing everything. For its latest four-song EP on Run For Cover Records, the band promised "its darkest material to date." And does Superior ever deliver. "Colicky" is the new Mini-LP by acclaimed cult independent band Self Defense Family. A dark, roiling post-punk gem written during a time of personal turmoil, "Colicky" is the group's jagged, unflinching look at the disintegration of love and intimacy. The result is a tight and eclectic mini-LP that ranges from cerebrality and coolness to measured chaos.






Wreck & Reference
Band Members
Felix Skinner, Ignat Frege
-from Los Angeles, CA


-Wreck and Reference is an experimental rock group based in Los Angeles, California. Their sound is characterized by experimentation with a wide variety of vocal styles over electronic instrumentation, composed of samples and synthesizers, and acoustic drums.