Friday June
15
2018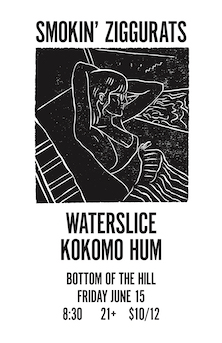 8:30PM

doors -- music at 9:00PM


•••

21 AND OVER




$

10

in advance

/ $12

at the door
Smokin' Ziggurats
www.facebook.com/smokinziggurats/


garage post-punk psychedelic


Water Slice
www.facebook.com/waterslice/


Psych-Pop


Kokomo Hum
www.facebook.com/kokomohum/


fuzzy psychedelia



---

Smokin' Ziggurats
Ben McClintock
Tom Smith
Thomas Gettys
Mario Ruiz
-from San Francisco, CA
-Smokin' Ziggurats was formed from the bond created by guitarists and songwriters Tom Smith and Ben McClintock as they toured as the guitar section of San Francisco band, Social Studies. Their disparate yet harmonious approach to the instrument fueled a new body of work, featuring ping-ponging post-punk guitar leads and twin vocal harmony, and a new band was born.

The eponymous debut record, Smokin' Ziggurats, is the culmination of a year's work of songcraft, brought to life by a pummeling, pocket rhythm section, featuring Thomas Gettys on drums and Chris Sugiura on bass. Phil Manley (Trans Am, Golden, Life Coach) engineered and mixed the album at his San Francisco haven, El Studio. The tightly-honed lyrics, and driving performance of this album lead the band across the country, playing with acts like Metz, Ted Leo, La Luz, Dengue Fever, Magic Trick, and Love of Everything, among others.

Songs kept flowing as the band supported their first record, and Chris Sugiura moved from bass guitar to behind the console for the second, yet-to-be-released album, Face The Jazz. The new 12-song affair finds the band maturing in form and content, scanning the personal and political with smile and a snarl, with their signature guitar voicings and vocal arrangements. Mario Ruiz has taken the helm at bass, his punk and industrial roots from his time as bassist in All Your Sisters adds an edge and feeling that drives home these themes in the live setting.

The band is eager to share the results of their second record, and are currently looking for a label home for the album. The year 2018 will see Smokin' Ziggurats on the road extensively, rippin' it up one raucous and energetic set at a time.






Water Slice


-from Los Angeles, CA


-Patrick Phillips, a former touring bassist of James Supercave and ex-member of the Portland-based experimental pop group BRAINSTORM, is going about things his own way now. Performing under the moniker, Water Slice, the LA-based singer-songwriter has been quietly dishing out shimmery and bouncy vibes. On his latest track, "This Way," Water Slice finds comfort in the distresses of personal acceptance. In terms of its sonic tone, the track blends effervescent bass lines and lighthearted guitar arrangements with warm, charming vocals to produce a summer paradise that can only be located in one's own imaginative mind.

Phillips had been penning his own material under the Water Slice name for awhile, but hadn't performed live until Portland friends, Radiation City asked him to open for them in Los Angeles back in 2016. Phillips swiftly put together a group around him, including members who had performed with the likes of Gardens & Villa and James Supercave. With Water Slice becoming the primary focus for Phillips, he became convinced that "This Way" was the way to go. Phillips explains:

"Many of my favorite tunes, whether post-punk, power-pop, or reggae, are stories of suffering, while staying undeniably groovy. I love this contrast of heavy lyrics with otherwise sunny music, and I kept this tradition in mind when writing 'This Way.' At the time I was stuck deep in a rut, 'This Way' is about accepting my flaws and pushing into the future with the people I love."

Previously releasing the psychotropic "Dream State" last year and the guitar-swirling "Our Hearts Don't" the year before that, Water Slice is eyeing for a more prominent 2018. While those tracks offered a comparable psychedelic-tinged resonance to his latest single, "This Way" overall comes off breezier, lighter, and jauntier. Performing within the aural vicinity of power-pop and indie-psychedelic rock, Water Slice delivers crisp and refreshing jams that will quench anyone's musical thirst, all summer long. Not to fret though, as "This Way" can easily guide you through any season you're up against.





Kokomo Hum
Sean Mabry
Chris Niles
James Murphy
Joshua Permenter
Paul Courte
-from San Francisco, CA
-Inspired by sci-fi, psychedelia, the corn fields of Indiana, Kokomo Hum explodes with searing synths and heavy melodic guitars, creating a fuzzy electric chorus through layers mind-warming astral sludge.

KH began as a side project of Sean Mabry (maus haus), The live band features members of White Cloud, Brasil, Mwahaha and Cassandra.