Tuesday
June 19
2018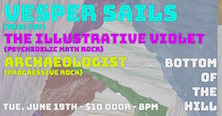 8:00PM

doors -- music at 8:30PM




••• 21 AND OVER




$

10


Vesper Sails
www.facebook.com/vespersailsband/


Prog-pop


The Illustrative Violet
www.facebook.com/theillustrativeviolet/


Indie/Jazz/Psychedelic/Math Rock


Archaeologist -----

Damper

is off the bill
archaeologist.bandcamp.com/album/odysseys-ep


metal progressive mathrock



---

Vesper Sails
Marshall Hattersley,
Evan Kaiser,
Ian Harshman,
David Adamiak
-from San Francisco, CA
-Imagine if Thom Yorke and St. Vincent played a show with This Town Needs Guns, except Danny Carey was subbing on drums, Joni Mitchell sang guest vocal, and you're traveling underwater, like a manatee.

Ever since their inception in the forests of Santa Cruz, California, Vesper Sails has been blending delicate dynamics with odd-time insanity, heavy riffs with pop sensibility, and jazz with rock experiments. We are inspired by things that are bigger than us.




The Illustrative Violet
Jaime Becerra - Guitar/ Vox
Forrest Rice- Drums
Jairo Becerra - Vox/ Keys
Wes Feller- Bass
-from Pomona, CA


-The Illustrative Violet - create music of an interesting nature. Something of a blend of high-caliber musicianship and aggressive/sentimental, heavy/psychedelic, intellectual/poetic, ethereal "rock" instrumentation






Archaeologist
Kyle Schaefer - guitar/vocals
Sean Johnson - guitar
Ryan Johnson - drums
George Lallian - bass
-from San Jose, CA
-Founded in 2013 as the solo project of San Jose-based guitarist/vocalist Kyle Schaefer, Archaeologist has now unearthed a full live lineup featuring Sean Johnson (Raiju, Riffshop), Ryan Johnson (Surrounded By Giants, The Even Deep) and George Lallian (Cyborg Octopus).

The band's latest release "Odysseys" marks a departure from previous material, taking a journey into seven tracks of colorful, adventurous, instrumental prog-rock. Some of the many guest appearances include Yvette Young of Covet, Gavin Castleton of the Dear Hunter, and UK-based guitarist Sithu Aye. In their 2017 review of the album, prog music publication It Djents states: "The succinctly powerful word which has kept on creeping into my thoughts as I jammed this album is 'refreshing'. 8.5/10".

With the newly formed lineup and successful release of Odysseys, Archaeologist has now turned its focus to playing as many shows as possible and preparing new material for a 2018 release.








1991393954454258/