Saturday
June 23
2018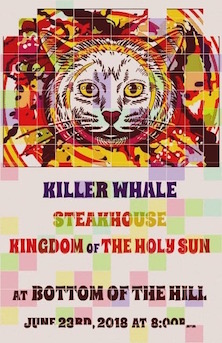 8:00PM

doors -- music at 8:30PM


••• 21 AND OVER




$

12


Killer Whale

-----

The Quiet Men

canceled
www.facebook.com/KillerWhalethomasjohnson/


Psych R&B


Steakhouse
www.facebook.com/steakhouseband.com/


post-punk country


Kingdom Of The Holy Sun
www.facebook.com/kingdomoftheholysun/


Psychedelia



---

Killer Whale


-from Baton Rouge, LA/San Francisco, CA


-"Killer Whale is a project undertaken by Thomas Johnson, a Baton Rouge, LA native, that mixes the histories and melodies of the South with the Bay and the result is something surprisingly reminiscent of the 60's and 70's, complete with drawbar organs, introspective lyrics, and guitar riffs that soar above a churning rhythm section."
-Do the Bay, San Francisco





Steakhouse
Reid Black - guitar, voice
Mark Sullivan - piano/organ, voice
Brian Michaelson - drums
Ville Vilpponen - bass
-from San Francisco, CA


-Steakhouse is a rock group from San Francisco, California. Their music sounds like a mix of post-punk, kraut and art rock, with little bits of country/ western thrown in at all the wrong times. They are influenced by Neu!, Johnny Cash, Rank & File, Scott Walker and The Clash. They have headlined big clubs in San Francisco but have yet to play a single rodeo. All the members of Steakhouse are veteran musicians.






Kingdom Of The Holy Sun
Josh Deveney
Daniel Sansone
Christian Powers
Scott Kennedy
Benajah Weiss
Guido Anselmi
-from Seattle, WA, Cascadia
- There's a recipe for the sound Kingdom Of The Holy Sun make ... though sadly too few seem to be able to follow it. This review encompasses all of their releases, as the band never strays far from what makes them shine.

1. Take a good lazy helping of fuzzed out wasted Black Angels ...
2. Sprinkle in a pinch of the quieter earlier Velvet Underground …
3. Add to that, equal teaspoons of The Doors' first album along with 'Electric Music For The Mind & Body' by Country Joe & The Fish …
4. Then mix in a touch of the pop vocal sensibilities of the Allah Las, along with a desired helping of Brian Jones on sitar …
5. Finally, gently blend in the dark romance of Spacemen 3 …
6. Now bake in the sun 'til it's all firm around the edges and mushy in the middle ... and that my friends is how it's done.

Referred to as Psychedelic Shamanistic Madness, Kingdom Of The Holy Sun, who hail from Seattle have managed to encapsulate the vintage rhythmic sensibilities of low-keyed organic THC laced garage-psych that merely breaks the surface as they string one set of hazy lysergic drenched notes after another, delivering an intoxicating midnight drive through the stars and wasteland of jettisoned spacecraft orbiting at low altitudes.

It's a stoner's delight ... that I promise you. Cascadian Psychedelia.