Sunday June
24
2018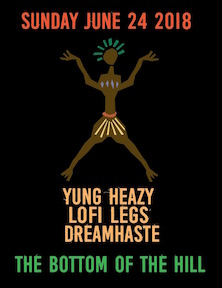 8:30PM

doors -- music at 9:00PM


••• ALL AGES




$

10

in advance

/ $12

at the door
Yung Heazy
www.facebook.com/YungHeazy/


Dream Pop


Lofi Legs
www.facebook.com/lofilegs/


Jangle Pop Garage Rock


Dreamhaste
www.facebook.com/Dreamhaste/


bedroom dream pop chill disco



---

Yung Heazy


-from Vancouver, BC




-Yung Heazy, real name Jordan Heaney, is a 22-year-old Dream Pop artist based in Vancouver, BC. His track "Cuz You're My Girl" is the most popular song on dream/Lo-Fi pop channel alona chemerys at nearly two million plays. While his music is not the most conventionally arranged, it's nonetheless extremely catchy. In addition to his solo project, Heaney is the frontman of a four-piece progressive rock band frogpile.






Lofi Legs
Paris Cox-Farr & Maria Donjacour
-from San Francisco, CA
-Lofi Legs Is a Jangle Pop Garage Rock Band.
Started by Paris Cox-Farr, while eating acid on the ancient indian bureil ground (Aroyo Seco).
Lofi Legs has bloomed into a three piece rock trio with Maria Donjacour on drums, Shane Hunt-Dusse on bass and, Paris Cox-Farr on lead guitar vocals.




Dreamhaste
Marika Stuurman // Vocals, Guitar
Fabrizio Incerti // Vocals, Guitar
Narsai Malik // Drums, Life Coach
Lucas Fendert // Bass
-from San Francisco, CA
-Dream Haste
drēm/hāst/
noun: dream-haste; plural noun: dream-hastes
1. The final stage of the REM cycle, bridging consciousness and the series of thoughts, images, and sensations occurring in a person's mind during sleep.

This EP is our 4 way baby.