Tuesday
June 26
2018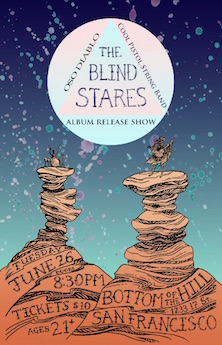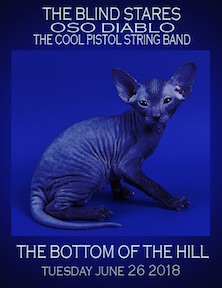 8:30PM

doors -- music at 9:00PM


••• 21 AND OVER




$

10


The Blind Stares


Album Release Show!


www.blindstares.com/


garage blues




Oso Diablo -----

Bodhi's Wish

canceled
www.theosodiablo.com/


Lo-Fi Blues Folk


The Cool Pistol String Band
www.facebook.com/coolpistolstringband/


blues, jamgrass, deadgrass



---

The Blind Stares
Scott Decker and Eric Waisman
-from San Francisco, CA


-Hi, we're The Blind Stares, a garage blues duo living in San Francisco, CA.






Oso Diablo
-from Austin, TX
-Singer-songwriter, blues guitarist, guitar builder.
I was born in land far far south. My first CD was Jimi Hendrix's Blues album.

A few years ago, I decided to really refocus on learning the blues on my guitar, and on making cigar box guitars and restoring old Harmony/Kay/Silvertone guitars.

I started going to Clarksdale, Mississippi every year and soaking in the culture, listening to records, and playing along with them.

Then I took the big step, and moved to Austin, Texas to get more involved in the music scene.

Today I am proud to have produced an EP, Brother's Keeper, collaborating with some great musicians in the process. I am especially thankful to my teacher and mentor Carl Weathersby for all he has taught me.





The Cool Pistol String Band
Christian Poppelreiter -mandolin/vocals |
Kevin Hogan - guitar/vocals |
Nathan Bryant - fiddle/vocals |
Nick Nirva - upright bass/vocals
-from San Francisco, CA


-We are a four piece acoustic string band based in SF comprised of fiddle, mandolin, guitar and upright bass, as well as harmony vocals. We play a lot of traditional music, folk, fiddle tunes, blues, jamgrass, deadgrass etc. We've existed for about 6 months, and there is a lot of enthusiasm around the prospects for the group. Currently building up a resume of different gigs played around the city.











1991393954454258/