Thursday
June 28
2018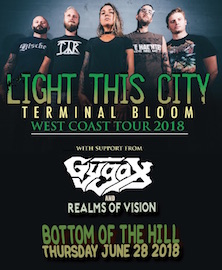 8:30PM

doors -- music at 9:00PM


••• 21 AND OVER




$

12


Light This City
www.facebook.com/Light-This-City-12498861242/


metal


GYGAX
www.facebook.com/GygaxGuild/


classic rock/heavy metal


Realms Of Vision
www.facebook.com/realmsofvision/


classic metal doom psychedelic stoner rock



---

Light This City
Laura Nichol- Vocals
Ben Murray- Drums
Steve Hoffman- Guitar
Ryan Hansen- Guitar
Jon Frost- Bass
-from San Francisco, CA
-Bay Area melodic death metal act LIGHT THIS CITY has released details on their impending fifth LP, and first in a decade, "Terminal Bloom", set for release in May through Creator-Destructor Records.

LIGHT THIS CITY has returned with ten blazing tracks that capture the band's tendency towards extreme melody and intensity, honoring the Swedish sound of the '90s. Having spent the past decade performing and touring in numerous other bands, the five members of LIGHT THIS CITY have only honed and shaped their skills and musicianship since their 2008-released "Stormchaser".

Terminal Bloom was recorded from December 2017 through February 2018 with Zack Ohren, who handled the band's previous four full length albums, at Castle Ultimate Studios in Oakland, California, and features vibrant cover artwork by Tony Midi.





GYGAX
Eric (Cleric)- Bass/Voice
Bryant (Fighter)- Guitar
Ian (Druid)- Keys
-from Ventura, CA
-GYGAX is a no-frills, classic rock/heavy metal hybrid, heavily steeped in the imagery of fantasy literature and role playing games, and rooted in the musical stylings of metallic '70s rockers Thin Lizzy and Deep Purple, with equal parts metal and boogie-inducing groove. Though their name is attributed to the creator of Dungeons & Dragons, the band has described themselves more simply as "a beacon and an anthem for anyone who's interests lie in creativity and the powers of imagination."






Realms Of Vision
Frank Costa - Guitars, Vocals
Mike Ambrose - Drums
Brandon McCubbin - Bass
Corey Largent - Guitars, Vocals
-from Bay Area, CA


-Started by Frank Costa (formally of Animosity, Entheos), in October of 2015. Joined by Corey Largent (SESOS) and Brandon McCubbin (Water Into Blood), and drummer Mike Ambrose (Set Your Goals, U.S. Light Brigade), the group set out to start the beginning of a dark, heavy, and melodic discography.