Saturday
June 30
2018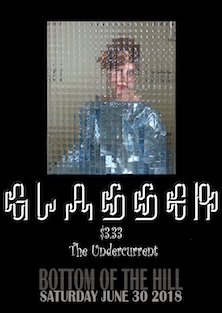 8:00PM

doors -- music at 8:30PM


••• ALL AGES




$

12

in advance

/ $15

at the door
Glasser
www.facebook.com/Glassermusic/


Synthpop, dream pop, indietronica


$3.33
www.facebook.com/noumenalloom


electronic techno


The Undercurrent
www.theundercurrentmusic.com/


dreamy indie pop



---

Glasser
Cameron Mesirow
-from New York, NY
-Cameron Mesirow's intimate new project builds her production around conversations about formative sexual experiences, which run the gamut from humorous to disturbing, and are often both at once.

The intricate, often tempestuous songs that populate Glasser's first two albums, 2010's Ring and 2013's Interiors, tend to bloom outward from Cameron Mesirow's voice. Her singing is not necessarily the most complex or arresting element of a given track—that would be the multifaceted beat-work she lays beneath it, made up of synthesizers, drum machines, and snippets of breathy, nonverbal vocalizations—but it is the most prominent. Glasser's first new release in five years, a single, 17-minute track called Sextape, similarly centers the human voice, although there's hardly any singing to be found on it. Instead, Mesirow builds her production around recorded conversations with friends about formative sexual experiences, which run the gamut from humorous to disturbing, and are often both at once.

Sextape's production takes cues directly from the rhythm of the voices Mesirow recorded; it doesn't merely weave its spoken word components into an established musical template, but begins with a single voice speaking about an awkward, coercive sexual experience at a gay bar. Almost immediately, lacunae appear in conversations: "He reached around and grabbed my—" a voice says in the first minute, the object of that particular reach left on the cutting room floor. Mesirow homes in on the phrase "and then," repeating the two words percussively until they form a rhythm, then introduces Sextape's first beat: a pounding, dancefloor throb evocative of the clubs and bars where some of these encounters took place.

Dance music and queer sex intertwine at the root; there is no house music without Frankie Knuckles' Warehouse, no techno without the Music Institute in Detroit. Yet few contemporary dance artists engage directly with the thorniness of queer intimacy, the complications that arise when queer people seek each other out to dance, to flirt, and to fuck each other. The current discourse on sexual abuse has focused almost exclusively on violence committed against straight women by straight men, leaving queer people to their own, quieter discussions on what consent looks like and how best to avoid harming others. Sextape broaches that conversation without ever slipping into the didactic mode. It's an intimate piece, not a political one. Rather than write lyrics about complex sexuality, Mesirow simply lets people speak, and finds the music in the conversation instead of forcing the conversation into the music.




$3.33
Noumenal Loom
-from Providence, RI


-Riding a glass arpeggio to the spire, saw waves cut concise glyphs into your avatar. Autotuned whimpers from Dido's music box find their place in an internet cafe. This could be a safespace, this could be a sonic refuge. You don't have time to prepare your piano, so you let Cygnus do it. Fractured windchime render on A♯3, tetra pak lid on E4, palo santo on B♭5, bitcoin on D2 and saffron on C4. Elegiac space for a space without reflection. Water world for a world without water. Timbral meditations to cut the complacency.






The Undercurrent
Wendy Chuah and Paul Zielinski
-from San Franciso, CA
-The Undercurrent is the San Francisco-based indie duo of Wendy Chuah and Paul Zielinski. The two first met in 2015, and small talk quickly turned into meaningful songwriting. With Wendy as an expressive vocalist and lyricist, and Paul as an experienced producer and multi-instrumentalist, they have been able to play off each other's artistic strengths and sensibilities to create a soulful, indie pop sound with a distinctive California vibe. As their name suggests, despite their often contrary musical tastes, an underlying force allows the duo to meet in the in-between — combining driving beats, layered guitar riffs, memorable melodies, and tying it all together with heartfelt lyrics.

The duo released their first single and music video for Waves in early 2017, and follow up track Who's To Blame soon after. They are currently recording their debut EP and have since assembled a live band, playing shows around the Bay Area and quickly building up a loyal local following.












1991393954454258/