Wednesday
July 11
2018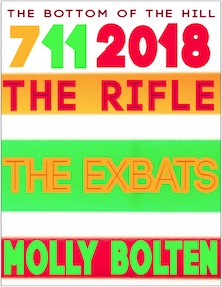 8:00PM

doors -- music at
8:30
PM
••• 21 AND OVER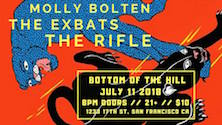 $

10


The Rifle
www.facebook.com/therifleband/


indie art-rock prog rock


The Exbats
www.facebook.com/TheExbats/


garage grunge pop rock


Molly Bolten
www.facebook.com/mollyboltenmusic/


soul, neo-soul, jazz, pop, rock



---

The Rifle
Nelene DeGuzman (vox/guitar)
Randy Rowland (drums)
Kevin Conklin (bass)
-from Tucson, AZ


-Dreamy sun drenched indie rock based in Tucson AZ






The Exbats
Inez McLain/drums,microphone
Kenny McLain/guitar,microphone
Matt Rendon/bass,mixing
-from Bisbee, AZ


-Best new band of all time. Broad appeal.






Molly Bolten
Molly Bolten - Guitar, vocals
Samantha Perez - Bass, vocals
-from San Francisco, CA
-Molly Bolten is a musician, songwriter and audio engineer from San Francisco.

A musician since early childhood, she started writing songs when she was a teenager. It should be noted that she also wrote many short one-hand piano pieces starting around age 6, one of which was called "Egyptoin Dance" (not a typo). She learned to groove in college in New Jersey, where she studied music composition and creative writing. During that time, she sang in a sort-of-afrobeat band, Sensemaya Afrobeat All-Stars, and played guitar in a hip hop/soul/jazz outfit, Gorilla Gorilla. In 2013, she formed a super-friend-band out of those two groups and made the Night Kitchen Experiment, the band on her 2014 album All Seats Provide Equal Viewing of the Universe.
In 2015, she released her EP Home Alone.
These days the Bay Area native lives in San Francisco, performing under her name and playing guitar in various other projects. She can often be found in one of three locations: her apartment, the Korean spa or the diner near her apartment.