Friday
July 20
2018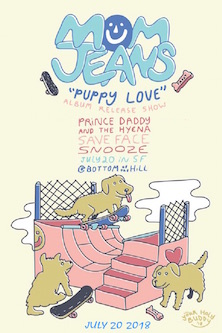 8:00PM

doors -- music at 8:30PM


••• ALL AGES




$

12

in advance

/ $15

at the door
Mom Jeans


(

Record

release)


momjeansca.bandcamp.com/


punk rock & roll and emo


Prince Daddy & The Hyena
www.facebook.com/princedaddyandthehyena/


garage party punk power pop surf punk


Save Face
www.saveface.band/


rock


Snooze
snoozzze.bandcamp.com/


power pop rock



---

Mom Jeans
Austin, Eric, Gabe, Bart
-from Berkeley, CA


-Mom Jeans. are an effortlessly likable group of dudes who proudly embrace their love for sad punk and emo. The weed-loving quartet is lauded for stream-of-consciousness lyrics and energetic performances that prompt audiences to shred their worries and simply bounce along. By trading the sappy for heartfelt and the melodramatic for truthful, Mom Jeans create a brand emo that's self-aware but not self-indulgent.






Prince Daddy & The Hyena
Kory, Cam, Zak, Alex
-from Weed Mountain, NY


-After surviving a cataclysmic event in way east kentucky, Prince Daddy & The Hyena formed an uncanny alliance in which they perform rad tunes for U!






Save Face
Tyler Povanda
Chris Wills
Phil McGarry
Chris Aveta
-from New Jersey
-
-With "Folly: On The Rocks" the band takes a stripped down, sometimes acoustic, sometimes piano driven, but mostly intimate look into the heart of what makes Save Face. Unique and bare, this version of Save Face showcases their penchant for crafting well-written catchy songs that translate in any genre.

On "Folly", Save Face takes their art to the pinnacle of the bands current evolution. Mixing in smart, rollicking leads with intense vocal hooks that demand your attention. Akin to New Jersey scene godfathers Save The Day, Save Face take on personal examination to another level as Povada goes on to say that "Folly is meant to personify the way in which we derive our self-worth from anything but one's self. These songs are an examination of a breakdown in communication, both internally and externally."





Snooze
Sammy - Guitar/vocals
Ryan - Guitar
Noah - Bass
Brandon - Synth
Kurt - Drums
Brianda - Vocals
-from Oakland, CA


-"Crushingly loud power pop from Oakland, California. (Features members of Just Friends, ex Joyce Manor) FFO: Weezer, That Dog. and The Rentals"