Thursday July 26
2018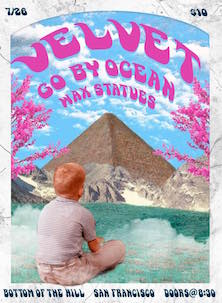 8:30PM

doors -- music at 9:00PM


••• 21 AND OVER




$

10


Velvet
www.velvet-planet.com/


Alt Rock


Go By Ocean
gobyocean.com/


Indie Rock


Wax Statues
www.waxstatuesmusic.com/


Mello-Psychedelia



---

Velvet
Vocals, Guitar / Emily Gold
Lead Guitar, Vocals / Peter Maffei
Bass, Vocals / Stephen Burns
Drums / Salvatore Romano
-from Los Angeles, CA


-Velvet is an alt-rock quartet fronted by Los Angeles singer-songwriter, Emily Gold. The group creates a sound that is at the same time heavy and melodic, catchy and chaotic. Velvet played their first show as a trio (including Gold and Romano) at SXSW 2017 in Austin, Texas. They've since released 2 singles, "How Do You Know" (PLAG Records) and "Even If I Tried" produced by Neil Wogensen (Valley Queen), played numerous shows in LA and on tour and recruited Maffei and Burns along the way. Velvet plans on releasing more new music in 2018 and touring the US.






Go By Ocean
Ryan McCaffrey - Vocals, Guitar
Eric DiBerardino - Bass, Vocals
Sean Nelson - Drums
-from San Francisco, CA
-I've always been enchanted by music. I'm mesmerized by the miracle of sound waves resonating naturally through the atmosphere and mysteriously working in harmony to draw out emotions in us all.

My latest work came together under a spell, in a truly majestic landscape on the coast of Marin. I set out with some of my best friends to focus and explore my current cultivation of songs with a new philosophy and an unfamiliar methodology. I chose the Panoramic House in Stinson Beach as the vessel to write and record the new Go By Ocean album "Sun Machine." I brought most of the songs in fresh so everyone worked on them with a first instinct kind of prospective. For me, "Sun Machine" reveals a new found path in life. An evolution of living with light rather than letting darkness lead the way. Like many of my lyrics, the album reflects on harder times with hope for greater days ahead. "Ring Around The Sun" starts the record off with that exact sentiment and is an anthem proclaiming there's still time to look on down that road to a better life. Participating in the light as opposed to checking out into darkness. We had a ball making this album with an amazing collection of hearts that resulted in a record I am very proud of. My line up has changed over the years but our mission remains the same. To spread love through the art of music and hopefully give people the emotional responses we all share and find in the music we love the most.

-Ryan McCaffrey




Wax Statues
Cam - Guitars, Synths, Vox
Dom - Bass, Vox
Christian -Percussion, Vox
-from San Francisco, CA
-Wax Statues is a San Francisco trio performing mello-psychedelia. Songs are a blend of jangly surf inspired guitars, lush 70's and 80's synth performances, and melodic bass lines held together by catchy psych pop rhythms and punctuated by harmonies and dreamy lead lines.

Wax Statues' debut album, "Exclusive / Reclusive" is set to be released in August of 2018.









1991393954454258/