Saturday July 28
2018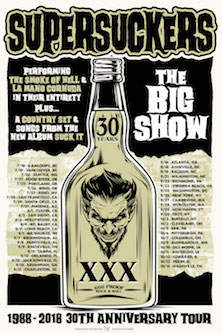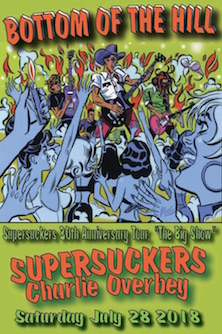 8:30PM

doors -- music at 9:00PM


••• 21 AND OVER




$

15


Supersuckers 30th Anniversary Tour,
"The Big Show"
featuring a country set, plus Smoke of Hell and
La Mano Cornuda in their entirety and more!
Supersuckers
supersuckers.com/


Punk/Country/Rock


Charlie Overbey
www.charlieoverbey.com/Charlie_Overbey.html


California Outlaw Country



---

Supersuckers
Eddie Spaghetti - Vocals, Bass. 'Metal' Marty Chandler - Guitar, Vocals. '
Captain' Chris Von Streicher - Drums.
-from Seattle, WA
-The Supersuckers are an American rock band. They are the self-proclaimed "Greatest Rock 'n' Roll Band in the World." Following the relative success of their 1997 foray into country music with the release of Must've Been High, they have also been known to play country shows under various names, including, of course, The Supersuckers. The Supersuckers were formed in Tucson, Arizona, in 1988 by high-school friends Eddie Spaghetti (born Edward Carlyle Daly III, bass, vocals), Ron Heathman (guitar), Dan "Thunder" Bolton (guitar), Dancing Eagle (born Dan Seigal, drums), and Eric Martin (lead vocals). After playing the local scene for about a year under the name the Black Supersuckers (taken from a pornographic novel), the band moved to Seattle, ostensibly in search of a climate more conducive to leather jackets. Martin left the band not long after, and Eddie Spaghetti took his place on lead vocals. Shortening their name to the Supersuckers, the band recorded singles for several indie labels, including eMpTy, Sympathy for the Record Industry, and Lucky; these were collected on the eMpTy compilation The Songs All Sound the Same, which became the band's first CD release in 1992. That year, they signed to Sub Pop and issued their proper debut album, The Smoke of Hell, which was produced by Jack Endino and featured cover art by renowned comic artist Daniel Clowes. Featuring one of the band's best-known songs in "Coattail Rider," the record also spun off the single "Hell City, Hell," whose B-side was a fan-favorite cover of Ice Cube's "Dead Homiez. In June 2015, it was announced the Spaghetti had been diagnosed with stage 3 oropharynx cancer, which impacts the back of the throat, close to the tongue and tonsils. Undaunted, Spaghetti underwent surgery and radiation treatments, and the Supersuckers were back with a new album in October 2015, the country-leaning Holdin' the Bag."

The Supersuckers are celebrating three decades of liquor, women, drugs and killing and their 30th anniversary as the greatest rock-n-roll band in the world with a series of special BIG SHOWS to commemorate this monumental footnote in music history!

Each BIG SHOW date will feature:
A mini country set to open the show
A sample of tunes from the forthcoming new album "SUCK IT!"
"The Smoke of Hell" album in it's entirety
"La Mano Cornuda" album in it's entirety
Patent Pending™ Fake Encore






Charlie Overbey


-from Los Angeles, CA


-Charlie Overbey may be a lifelong Californian, but his songs are steeped in the timeless traditions of the American South. After years of touring the world supporting acts ranging from David Allan Coe and Blackberry Smoke to Social Distortion and Motorhead, Overbey slowly amassed a collection of introspective original songs that transcend the endless rock & roll party, taking a stark, undeniably honest look at some of life's most gritty moments. The result is Charlie Overbey''s new LP, Broken Arrow.

Coined as " The Punk Rock Spy In The House Of Honky Tonk" Charlie's new album Broken Arrow is a triumphant collection of road-hardened alt-country tunes born of Overbey's upbringing in what he calls "the school and church of Johnny Cash," Broken Arrow features guest appearances from The Mastersons (who also play in Steve Earle's band The Dukes), Miranda Lee Richards (who sings on duet single "Slip Away") and Eddie Spaghetti of the Supersuckers, and was produced by Ted Hutt who recently won a Grammy for his work with Old Crow Medicine Show, and has helmed multiple albums by Lucero, The Gaslight Anthem, Dropkick Murphys and many more.

"I've never worked with anybody like Ted," Overbey says, reflecting on the sessions. "This is the first time I've ever let go and trusted somebody else as a partner in my songs. He really pulled some stuff out of me that I had not planned on delivering. Honestly, these songs can be hard for me to sing—they come from a deep, real and sometimes dark place."

Self-aware and introspective without relying on played-out tropes of love and loss, Overbey's songwriting is genuine, fearless and visceral. Authentic, reverb-drenched '70s-channeling album opener "Slip Away" gets right at the heart of life's darkness, chronicling the heart-wrenching suicide of a young girl. Accompanied by wailing pedal steel and the haunting harmonies of Miranda Lee Richards, the song sets a tone of somber acceptance in the face of mortality.

"The Ballad of Eddie Spaghetti"—featuring a guest appearance from its namesake—also addresses mortality, though from a different perspective, confronting Spaghetti's recent struggles with cancer. While the refrain, "If I die at 47, if I die before my time / Will they drag me up to heaven or deliver me to Hell in my prime" might read as a last will & testament, the soaring vocals and upbeat tempo elevate it to an awe-inspiring, fist-pumping battle cry. As Overbey sees it, "You gotta step up and kick life's ass sometimes."

Looking ahead to the March 2018 release of Broken Arrow, Overbey is gearing up to hit the road with a vengeance for the first time in years. He and the band are already working on songs for a follow-up record that will draw from the same rich vein as Broken Arrow.

As the album title suggests, an existential darkness permeates Broken Arrow. It is the work of a road-savvy rock & roll veteran who sees the world as it is, fully grasping the jagged pain of life. But this darkness isn't a dead end—Overbey's songs are shot through with enough hard-fought resilience, determination and optimism to remind listeners the only way out is forward, and that the wild ride of life is a mysterious and beautiful gift.