Tuesday July 31
2018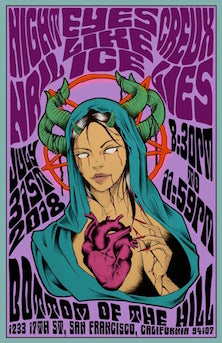 8:30PM

doors -- music at 9:00PM


••• 21 AND OVER




$

10

in advance

/ $12

at the door
Night Nail
www.facebook.com/nightnailmusic/


indie rock


Eyes Like Ice
www.facebook.com/soundsofeli/


avant-pop experimental folk


Creux Lies
www.facebook.com/creuxlies/


folk-psych psych pop



---

Night Nail
Brandon Robert, James Hendrix, Bryan Panzeri,
Justin Regele, Michael Carpenter
-from Los Angeles, CA
-The Night Nail is a black rose found only in Los Angeles. It is the only black rose in California which blooms at night!
​
Formed in Los Angeles by Brandon Robert in LA in 2013, the band recorded and released a 4-song, self-titled CD/EP which received attention throughout US, Europe, South America, and Australia; initially receiving great reviews on blogs and in the music press.
​
Night Nail has played with local acts such as David J, Magic Wands, Bonfire Beach, In Letter Form, VOWWS, Tennis System, Giant Drag, and Prayers.




Eyes Like Ice
Daniel Knop
-from San Francisco, CA


-






Creux Lies
Kyle Vorst, David Wright,
Topher Snyder, Barry Crider, Ean Clevenger
-from Sacramento, CA
-Post-Punk/Synth Jams ....some former members of NMBRSTTN (Number Station) or as comedian Jon Daly once called us, Number Satan.
All the members of Creux Lies used to be part of a support group for people with the 6th Sense. Now, they spend their days loungin in Sacramento, CA along w/ ghosts and other ultra-dimensional beings... just playing music together, and getting cozy.