Wednesday
August
1
2018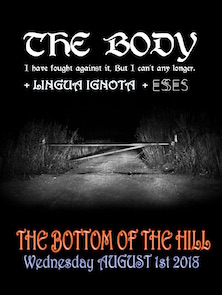 8:30PM

doors -- music at 9:00PM


••• ALL AGES




$

10

in advance

/ $12

at the door
The Body
www.facebook.com/thebodyband/


Avant-garde metal, Sludge Doom Noise


Lingua Ignota
www.facebook.com/linguaignotamusic/


Death Industrial, Neoclassical Darkwave


Esses
www.facebook.com/essesoakland/


.post-doom post-goth post-punk



---

The Body
lee-drums,samples
chip-guitars,vocals
-from Portland, OR
-Absolutely no one makes music like The Body.
With each release, the duo of Lee Buford and ChipKing continue to defy the constraints of what it
means to be a "heavy" band, seamlessly combining composition or production approaches from hip hop,
pop, classical, as well as rock and electronica resulting in a rich and utterly singular sound. Equally at home
on festival stages, art spaces, or in DIY basements, they transcend musical boundaries. Their ambitious
creativity shapes their bleak worldview into propulsive, a ecting, and even danceable music often drenched in distortion. On I Have Fought Against It, But I Can't Any Longer The Body challenged themselves again by turning their compositional approach on its head, choosing to build the record on their own samples rather than recording the basic tracks of drums and guitars and processing those. The results carry the listener towards the brink of emotional and musical extremes. I Have Fought Against It... conjures the sublime from an unexpected and incomparable variety of sounds.
The Body are known for their intense, abrasive live shows, whose waves of dissonance create an abiding dread or an overwhelming sense of terror. They create a volume of sound almost unfathomable from a duo and are una ected by instrument choice: guitar and drums, or keyboard and synthesizers. Inventive producers, the duo expand their recorded sound palate with regular contributions from the likes of Chrissy Wolpert (Assembly of Light Choir), and Ben Eberle (Sandworm), arranged with help of longtime engineers Seth Manchester and Keith Souza (Machines With Magnets). Wolpert's ethereal calls and Eberle's vicious growl are augmented by Lingua Ignota's Kristin Hayter, whose impassioned voice features on the viscerally emotional "nothing stirs." On "sickly heart of sand," vocal tradeo s between King and Hayter's are punctuated with the howls of Uniform's Michael Berdan. With The Body's keen sense of balance, the ferociousness of these extreme performances are underpinned by the elegance of string swells and pensive, even melodies from a lone piano.
For The Body, any source of inspiration is fair game to achieve their distinct atmosphere of unbearable dread, pain, and sadness. "Partly alive" places rolling drum gures, commonly found in pop, and transforms them with a backdrop of horns, skittering synthetic hi hats, and pitched feedback. The oppressive groove of "an urn" pulls beat arrangement and melodic ideas from disparate electronic in uences. Their eclectic sampling choices are both musical and literary from singjay star Eek-A-Mouse to a reading of Bohumil Hrabal to the Clarice Lispector quote on the album's artwork and beyond. The album title, an excerpt of Virginia Woolf's suicide letter, is an apt moniker for the pervasive themes of loss, desperation and loneliness throughout. Carefully selected samples and literary references bolster the album's emotional heft. I Have Fought Against It, But I Can't Any Longer proves how truly adventurous and diverse a creative force The Body has become. The Body continue to push the boundaries and de nition of what is heavy music, their ingenuity unparalleled.




Lingua Ignota
Kristin Hayter
-from Providence, RI


-Lingua Ignota is the alter ego of Kristin Hayter, a Rhose Island based musician who spent her younger years training in classical music. As she describes it, her show takes the tradition of performing hysterical femininity often seen in opera and turning that stuff on its head. She becomes an ambiguous narrator who is both aggressor and victim, engaging misogyny head-on, and doing so within a medium that is both classical and extreme music. The intended result is disorientation and discomfort. And it works. It's a bit theatrical, but it is not contrived. This music is born in the fear, shame, confusion, anger and ultimately strength and empowerment that comes with facing and then overcoming something terrible. It is deeply personal and to listen to it is to suffer with her.






Esses
KELLY CORRELL - Vocals,Keys
KEVIN BROWN - Drums
MICHAEL MERSEREAU - Guitar
DAWN HILLIS - Guitar
SCOUT - Bass
-from Oakland, CA


-Esses is an Oakland, CA post-punk/darkwave band which was formed in 2014. Their music has a wall of sound all their own with elements of punk, deathrock, doom, and noise to create a soundscape that is both intense and intimate. The group's members tap easily into the underground music and art aesthetic that has come to define the San Francisco Bay Area music scene.