Sunday August 5
2018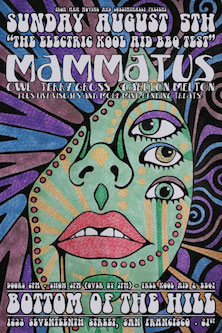 2:00PM

doors -- music at 2:30PM


••• 21 AND OVER




$

10


Iron Man Moving & Subliminal SF
www.facebook.com/SubliminalSF/


presents...


"The Electric Kool Aid BBQ Test"


Free Kool-Aid & Free BBQ food!


Mammatus
www.facebook.com/mammatusband/


space trippin, proggy rock and roll


Owl
www.facebook.com/owlbrotherhood


Rock and Roll


Terry Gross Band


members of

Triclops

and

Peace Creep


www.facebook.com/grossterry/


experimental pre-post indie


Carlton Melton
www.facebook.com/Carlton-Melton-band-page-142609689122268/
psychedelic rock


---

Mammatus
Nicholas Emmert, Chris Freels, Aaron Emmert
-from Santa Cruz County, CA


-Mammatus has been conjuring up a heavy blend of riff laden, space trippin, proggy, hazy far out rock and roll for over ten years. Since forming in the shadows of the Santa Cruz Mountains of California in 2005, they've delighted the ears and minds of adventurous listeners around the world. Their wizard and dragon themed self titled debut LP became a cult classic among the stoner rock crowd, drawing rave reviews from music lovers who were mesmerized by the psychedelic jam sandwich of Sabbathy riffage, swirling kraut grooves, and thundering space drones. In 2007 Mammatus released The Coast Explodes, and continued their ascent into heaviness while introducing more prog into the mix and creating a blissful yet intense spiritual rock experience. They traversed North America, garbing themselves in bizarre floral wizard robes and waving redwood staffs foraged from Corralitos Creek, turning people on to their sound and leaving many a sore neck behind them.






Owl
K. Baechle, Axell Baechle, Clint Baechle, Jamie Sanitate
-from Jackson, CA
-Its a family affair! Three and a half years since the release of the Screech LP, Oakland, California's Owl returns to the scene with two brand new tracks on the archaic "cassingle" format! "Awaken The Mountain," taken from a new album album which will be released later this year, is a prog metal epic, and cautionary tale of dwelling too close to volatile geologic formations! The B-side, "Jupiterian Ocean," is a sweeping instrumental that glides in view on terrestrial winds, before plummeting into stoner caves and finally scaling staggering zeppelinesque heights!






Terry Gross Band
Phil Becker - Drums
Phil Manley - Guitar/Vocals
Donny Newenhouse - Bass/Vocals
-from San Francisco, CA
-Terry Gross creates media artworks and conceptual artworks. Through a radically singular approach that is nevertheless inscribed in the contemporary debate, Terry Gross tries to create works in which the actual event still has to take place or just has ended: moments evocative of atmosphere and suspense that are not part of a narrative thread. The drama unfolds elsewhere while the build-up of tension is frozen to become the memory of an event that will never take place.

Their media artworks are saturated with obviousness, mental inertia, clichés and bad jokes. They question the coerciveness that is derived from the more profound meaning and the superficial aesthetic appearance of a song. By putting the listener on the wrong track, they use references and ideas that are so integrated into the process of the composition of the work that they may escape those who do not take the time to explore how and why their songs may haunt you, like an undercooked pork chop, long after you've heard them.






Carlton Melton
Andy Duvall, Clint Golden, Rich Millman
-from Northern California
-The band CARLTON MELTON formed along the Mendocino County coastline in Northern California on the weekend of July 17th, 2008. The idea to play live, loud, improvised, experimental, instrumental, psychedelic music in a geodesic dome had been discussed for many years prior to this date. The opportunity came to fruition after the dome was completely rebuilt and the acoustic sounds inside were fully realized.

The music is recorded live inside the dome to analog and digital sources using omni-directional microphones. All music is improvised in the sense that no one really knows who or what is going to be played at any given time. There are no rehearsals, practices, demonstration tapes, second takes... what you hear is the first take... " Hit It And Quit It " as Funkadelic would prescribe. There are no studios. We record in Brian's house and Brian happens to live in a geodesic dome.

It is understood this music is not for everyone. If you prefer top-notch, modern day production and crafty songwriting you may want to stop here. If you prefer old SST label cassette tapes or an early Spaceman 3 cassette you recently found wedged in the back seat of your car you may dig some of this... or perhaps you like to listen and gaze at an old David Crosby LP now and then. We dug it enough to strike up our own label Mid-To-Late Records so we could share our favorite jams on vinyl.