Wednesday August 8
2018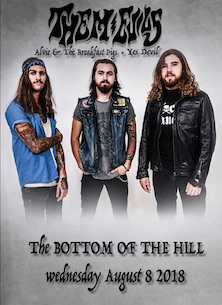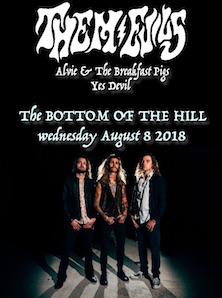 8:30PM

doors -- music at 9:00PM


•••

ALL AGES




$

10

in advance

/ $12

at the door
Them Evils
themevils.com/


Rock n' Roll


Alvie & The Breakfast Pigs
alvieandthebreakfastpigs.com/


Rock 'n' Roll, Trash Blues


Yes Devil
www.facebook.com/YESDEVIL/


Hard Rock




---

Them Evils
JORDAN GRIFFIN guitars/vocals
JAKE MASSANARI bass
DAVID DELANEY II drums
-from Huntington Beach, CA
-THEM EVILS are a late-night joyride through rock and roll's seedy underbelly. Born in the shadows of neon vice and nocturnal living in Las Vegas, nurtured by the proximity of Hollywood's famed Sunset Strip, and cradled in the same Orange County, CA home that has become synonymous to punk attitude and hard-driving rock history, the leather-and-black clad trio pen unapologetic songs that bristle with a nasty energy befitting their name.
Inspired by equal parts of rock giants like Led Zeppelin, AC/DC, and Queens Of The Stone Age, among others, guitarist/vocalist Jordan Griffin, bassist Jake Massanari and drummer David Delaney pay tribute to their roots with every crushing note on their latest self titled EP, a 4-song homage to the unholy goodness that is THEM EVILS.
"We pretty much made our own scene," Griffin says. "We started out doing straight up rock and roll, and that's what we're still doing... that said, we're always evolving."
Griffin and Massanari moved to Orange County, CA from Las Vegas in 2013, with nothing else to fall back on. It was there they met Delaney - the final piece of the THEM EVILS puzzle they'd been trying to complete for years. Two EPs later (their self-titled release and the lineup's Cold Black Love debut)... They have toured with bands such as The Pretty Reckless, Alter Bridge, Zakk Sabbath and 10 Years while sharing stages at festivals with some of the biggest names in Rock n' Roll. They are set to embark on a west coast run with Red Sun Rising and their own headlining tour this spring. They will play Welcome To Rockville, Caroline Rebellion and Rock On The Range this year as well as release another EP!
Buckle up, this is gonna be one hell of a ride...





Alvie & The Breakfast Pigs
Jake Natkin
Alvie Adams
Brandon Eisenberg
Matt Logan
-from San Francisco, CA
-Originally from Tempe, Arizona but now tearing up the mean streets of San Francisco, Alvie & the Breakfast Pigs don't mess around. We play LOUD in your face rock n' roll. The End. Our music is best described as fast rock n' roll with punk blues influences. We like to call it "trash blues".

Our songs have strong meaningful lyric content with the in your face riffs and complex rhythms to keep up; our show will grab your attention from start to finish. Our Influences vary from 60's and 70's classic rock to early 2000 pop punk, and everything in-between. Come check out a show and see for yourself.




Yes Devil
Logan Barsell, Hunter Barsell,
Matt Abbott, Eyan Stran, Zach Scherer
-from Bay Area, CA


-Yes Devil has a wide range of influences but mostly style after the driving rock bands of the 60's 70's 80's and 90's to form a unique sound.









v