Friday August 10
2018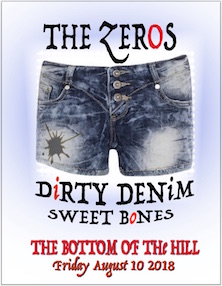 8:30PM

doors -- music at 9:30PM
•••
21 AND OVER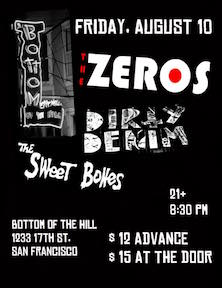 $

12

in advance

/ $15

at the door
The Zeros
www.facebook.com/thezeros77/


West Coast Punk


Dirty Denim
dirtydenimsf.com/


punk garage post-doo wop sleazy surf


Sweet Bones
thesweetbones.com


garage punk rock



---

The Zeros


-from Los Angeles, CA


-Iconic American punk band, The Zeros returns for some selected summer dates after 15 year hiatus. The band is reuniting with the original lineup that established Punk Rock on the West Coast with Javier Escovedo, Robert Lopez ("El Vez"), Hector Penalosa, and Baba Chenelle.

The teenaged Zeros blasted out of the South Bay suburb of Chula Vista at the dawn of the punk explosion in 1976, and played their first major show the following year at L.A.'s decaying Orpheum Theater, known as the Hollywood Punk Palace. That gig was notable as well for being the debut of The Germs, and also an early appearance of quirky art-rockers The Weirdos. All three bands would become an integral part of the history of West Coast punk, and epitomize its sometimes destructive collision of collective musical passion and personal excess. The hook-laden garage punk of The Zeros, with influences that ranged from the New York Dolls, Stooges, David Bowie, Velvet Underground, T-Rex, and Kiss to '60s proto-punk bands like the Seeds, Standells, and the Animals, earned them a recording deal with music-magazine publisher Greg Shaw's Bomp Records, which released the raucous single, "Wimp"/"Don't Push Me Around" in '77, followed a year later by "Beat Your Heart
Out"/"Wild Weekend."

The Zeros, after relocating in San Francisco, would go on to play at such renowned venues as The Masque, Whisky Au Go-Go, and the Starwood in L.A.; San Francisco's Mabuhay Gardens, Deaf Club, and Temple Beautiful; and CBGB and Max's Kansas City in New York. The band often found itself at key moments in the evolutionary punk/new wave timeline. On March 17, 1979, returning to L.A. to play a show with X, The Alleycats, The Go-Go's, The Plugz, and The Wipers at Elks Lodge Hall, The Zeros barely got to relax after their set when the show was interrupted by the notoriously punk-hating, baton-wielding LAPD. The night ended in a minor riot. The "St. Patrick's Day Massacre" became the stuff of history.

The Zeros played with The Clash, were once joined onstage by Patti Smith, and even had their gear stolen at New York City's infamous Danceteria.
The Zeros have inspired and influenced so many bands.
Their songs have been recorded by The Muffs, Hoodoo Gurus, and Mudhoney. Sator covered black and white and it went to number 2 on the Swedish charts.
An opportunity to witness a reunion of such bonafide legends like The Zeros is not to be missed. This is Punk Rock history live and in person....





Dirty Denim
Katie Rose - Guitar/Vox,
Laura Svec - Bass/Vox
Raquel Reyes - Drums/Vox,
-from San Francisco, CA
-Combining obscure sixties garage and surf guitar with 50's doo-wop, Dirty Denim brings fetishism to the impetus of sleazy rock 'n roll.

Schizophrenic front-woman & guitarist, Katie Rose (of Bomp! Records' les Hell on Heels), moved to San Francisco from Portland, OR with bassist, Laura Svec, in 2014. That's where they met and fell in love with drummer, Raquel Reyes (of the Peppermints).

Dirty Denim quickly left their mark on the Bay Area music scene and began to take the west coast by storm. Now, they headline or support large acts like: The Dead Boys (yes, the 1979 legends), Richie Ramone, Mike Watt (Minutemen), D-Generation, The Coathangers, La Luz, Shannon & the Clams, etc.

They are unfazed by the oddity of their rapid growing success — being that they haven't released even ONE full-length album yet!

Like their song, "Hit the Wall" says, maybe they just wanna "see how far they can take it." ... maybe WE are the butt of their jokes... maybe WE are suckers... and they are only teasing us as the anticipation builds for their debut album said to drop Summer 2018.

...Maybe we can survive just a little longer on the breadcrumbs they leave us as fans... Maybe...





Sweet Bones
Pablo Liendro: Vox-guitar
Daniel Hodkinson: Drums-vocals
Jonny Perez: Bass-vocals
-from Berkeley, CA
-A fury undefined by modern thresholds. The Sweet Bones take garage and punk rock beyond their genres. Core values consist of The Kinks, The Ramones, Primal Scream, The Clash and The MC5, but Latin, Garage, Surf music and Punk influences are also at play.

Spanish lyrics, strumming guitars, raw emotions, harmonies and riffs are all part of this high en- ergy music. The Sweet Bones take listeners through stories of love, sex, drugs, and an avalanche of rock. This is a gang of four modern lovers with battery acid surging through their veins with ferocity. A unique billingual set infects the crowd with this energy.

An Argentinean, a Mexican-American and a 100% American form The Sweet Bones.
Formed in San Francisco, California in 2009, but has had its current makeup since 2013 due to musician changes and parenting for lead singer Pablo Liendro.

Pablo Liendro on vocals and guitar, Jonny Perez on bass and vocals and Daniel Hodkinson on drums and vocals.

The band's independent second album mix at Fantasy Studios in Berkeley by Jesse Nichols is out and showcases the members melting pot of influences and experiences from different countries and cultures, all together for the same passion.