Monday
August 27
2018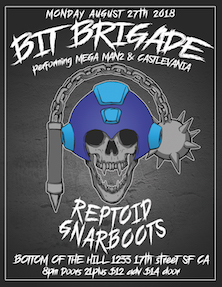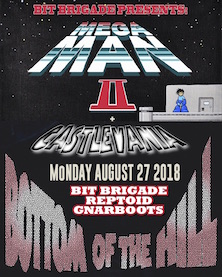 8:00PM

doors -- music at 8:30PM


••• 21 AND OVER




$

12

in advance

/ $14

at the door
Bit Brigade
www.bitbrigade.com/


nerd rock rock \ video game music


-- performing Mega Man II + Castlevania
Bit Brigade performs rock covers of full NES game soundtracks as their gamer speedruns the game live on stage. On this night, they will be playing Mega Man II + Castlevania
Reptoid
www.facebook.com/reptoidiscoming/


experimental noise rock


Gnarboots
www.weareallgnarboots.com/


dynamic, formless entity of musical non-conformity



---

Bit Brigade
Gamer - Noah McCarthy
Guitar - Bryant Williamson
Guitar - Jace Bartet
Bass - Luke Fields
Drums - Mike Albanese
-from Athens, GA
-Bit Brigade performs rock covers of full NES game soundtracks as their gamer speedruns the game live on stage. On this night, they will be playing Mega Man II + Castlevania"

"When was the last time you attended a live music performance with a genuine element of risk involved? And no, going to a Gwar show with a white t-shirt on doesn't count. When Bit Brigade takes the stage your mind will frantically oscillate between "Oh! Agh!! Please don't die!!" and "YES! He's doing it!!" Combining the dread and daring of a live video game speed run with the spot-on technique of a live band covering the musical accompaniment to everything you're seeing on-screen in real time, Bit Brigade will have you swinging between the two mediums. From thrashing about to live renditions of your favorite stage themes, fingers yearning to the sky in a rock 'n roll parody of sea anemones seeming to silently plead, "Please, feed us more fretboard pyrotechnics!," to being locked in stock-still rapture as the infallible maestro of the d-pad, Noah McCarthy, takes on the final boss and risks his video game life under the threat of intense peer scorn (or the reward of night-long glory and a credits score). No matter the outcome, Bit Brigade must play on until the deed is done - which it always is - on the first (and last) try. Once Noah's NES buzzes on, there's no turning back." - Metalhead Mike of The Shizz, summer 2011"





Reptoid
Jordan Sobolew
-from Oakland, CA
-"It's just that the Reptoid three several profile - which is supposed to demo, but do not be fooled by anyone at - an impermeable big heavy storm that all noise-rock fans have to be to start with massive amounts sent the guy bandcamp page now to rapidly capture a minimum of three hours' albums. Yeah, like that of a man Reptoid. And yeah, it's the number three quite brilliant noise-rock phlebotomy."

-http://csakbennhajogerendazatto.blog.hu




Gnarboots
We Are All Gnarboots
-from Gilroy, CA


-Gnarboots is a dynamic, formless entity of musical non-conformity. We don't practice, and anything goes. We are a band, whatever that means.