Friday
August 31
2018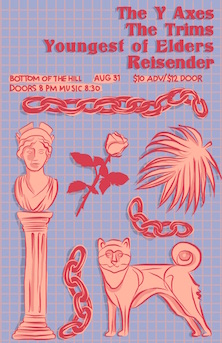 8:00PM

doors -- music at 8:30PM




••• ALL AGES




$

10

in advance

/ $12

at the door
The Y Axes
www.facebook.com/theyaxes/


Space Pop/ Moon Rock/ Post-Americana


The Trims
www.facebook.com/TheTrimsSJ/


Indie Rock


Youngest Of Elders
www.facebook.com/youngestofelders/


emo grunge indie folk


Reisender
www.facebook.com/reisendermusic/


Pop - Indie



---

The Y Axes
Alexi Belchere - Vocals
Devin Nelson - Guitar/vocals
Nick Schneider - Drums
Jack Sundquist - Bass
-from San Francisco, Earth, Solar System, Milky Way, Local Cluster
-We are not the future of pop music; we are pop music from the future.

The Y Axes are a San Francisco-based indie outfit who play a unique blend of dreamy, synth-glossed pop and rhythmically muscular rock. Having initially formed as a recording project by vocalist Alexi Rose Belchere and guitarist Devin Nelson, the duo decided to take on the project full time after premiering a set of songs at their space and prom-themed joint birthday party in July 2011.
Their lineup completed by bassist Jack Sundquist and drummer Nick Schneider, The Y Axes collaborate to create energetic and hard-hitting pop with intricate instrumentations and ethereal vocal melodies that can stick in your mind for weeks.




The Trims
Gabriel Maciel - Founder/Vocals/Guitar
Billy Brady - Drums
David Ovlite - Bass
Jerry Lozano - Guitar
-from San Jose, CA
-In the Bay Area, there is a lot of great new music coming out each week. Bands break up, new ones begin and the buzz ensues. That brings us to The Trims, a local San Jose outfit that has the loyal fan base and buzz to take them beyond their locality and into a national spotlight. The Trims have a strong sound reminiscent of early U2, The Strokes, The Killers, and the Brit pop of the 90's, while also conjuring the swagger of artists like Joy Division and The Doors. Blend that style with romantic heartache and over-sexed lyrics about all things scandalous, and you have the identity that defines The Trims.

Their song "Out of Control" was featured on MTV's The Real World, leading The Trims to be added as MTV Artists on MTV.com.
They are currently on regular rotation at CBS Radio Live 105.3 KITS in San Francisco.

The Trims are creating quite a buzz in the Bay Area and are notorious for their high energy live shows.




Youngest Of Elders
Jesse Gale
Maxx Sherman
-from Concord, CA


-After listening to just one of their songs, you feel completely consumed by the music, and it comes with the reassuring sense that everything will be fine. The best and worst things that have or will ever happen to you.






Reisender
Reisender is the Moniker of Songwriter/Producer Paul Conroy.
-from San Francisco, CA


-Reisender is the Moniker of Songwriter/Producer Paul Conroy. He has performed music in over 12 countries in Europe and North America and currently resides in San Francisco. Reisender- which means "Traveler" in German- centers his musical themes around embracing change and transience, especially in the face of adversity and hardship.