Wednesday
September 5
2018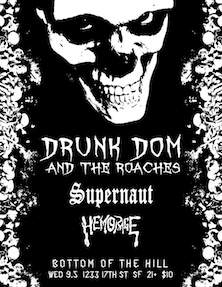 8:30PM

doors -- music at 9:00PM


•••

21 AND OVER




$

10


Drunk Dom & The Roaches
www.facebook.com/DrunkDomAndTheRoaches/


drunk blues

-----

Realms Of Vision

is off the bill


Supernaut
www.facebook.com/SupernautCA/


psychedelic stoner metal rock


Hemorage
www.hemorage.net/


death metal groove metal thrash metal



---

Drunk Dom & The Roaches


-from Waterford, MI


-Once, during Prohibition, I was forced to live for days on nothing but food and water. ~W.C. Fields
Bigger than Jesus






Hemorage
Jon Orc - Vocals/Guitars
Bona Pak - Vocals/Bass/Guitars
Beto Escobar - Drums
-from San Francisco, CA
-Hemorage was formed in 2007 by a group of friends at a high school in San Francisco, California. Members of Hemorage are Jon Orque on Lead Guitar/Vocals, Bona Pak on Rhythm Guitar/Backing Vocals, and Humberto Escobar on Drums. From three different countries (Philippines, Cambodia, Guatemala), each were brought together by their musical interests and has persisted since then.

​Three words best describe their sound: fun, fast, and aggressive. Their energy-filled stage presence is heavily influenced by metal and punk. Hemorage does not conform to one sound and at the same time maintains their described sound. Many who attend a Hemorage show say that they would have an intense and fun time.

Hemorage began their band playing covers at a batting cage room in high school. After a number of created songs, they began gaining recognition in 2010 when playing at a venue called Thee Parkside.

On the same year, Hemorage's fan base began to grow more playing frequent shows at the Submission (once name the Balazo). Since then, there is an increasing audience throughout the Bay Area and various places around the world for Hemorage.

As a member of Hemorage, it is important to stand up for what makes you truly happy and to go hard at it. The band has a strong Do-It-Yourself philosophy. They are also about the philosophy of by the people for the people. From Joey Voodoo's interview, Hemorage creates their merchandise from their own hands independently. When it comes to putting themselves out there, they will do their hardest to promote themselves by putting flyers everywhere, handing out flyers at events, talking with the people at the shows.

We, Hemorage, don't call our fans a fan; we call them friends no matter who they are. We love the thrill and excitement of playing on-stage as it gives just as much pleasure as the audience enjoying us, no matter how many attend.