Saturday September 8
2018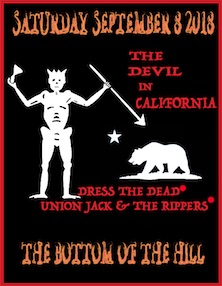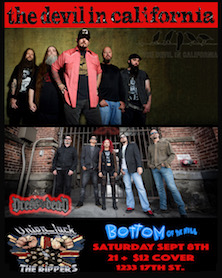 8:30PM

doors -- music at 9:00PM


••• 21 AND OVER




$

12


The Devil In California
www.thedevilincalifornia.com/


Rock / Hard Rock


Dress The Dead


Thrashy Rock N Roll \ Soulful, bluesy metal rock


www.dressthedead.com/
Union Jack & The Rippers
www.facebook.com/unionjackandtherippers/


New Wave of British Heavy Metal



---

The Devil In California
Jamie Cronander - Guitar, Anthony Malson - Vox,
Snake - Guitar, Andy Galeon - Drums,
Matt Stewart - Bass
-from Oakland, CA
-The Devil In California: Classic but heavy-as-hell rock, you know you're in for something big and heavy when you first lay eyes on these guys, and that's just what you get. They bring their own brand of heavy rock, with low-slung guitars, attitude, impeccable musicianship, and soaring 3 and 4 part harmonies that crush with historic rock power and finesse.

Hailing from the broad, cracked streets of West Oakland California, The Devil In California have set out to create new rock music, and bring it to the world. They do that in-between thing. It's heavy, but not metal. It's sing-alongy, but not sappy.

In the beginning, Jamie and his musical partner in crime, Matt Stewart laid the groundwork for this heavy, low, southern-influenced rock concept. The "audition", and immediately subsequent induction of seasoned rock vocalist Tony Malson made them a band, but they still wanted more from this sound. In search of the perfect "big rock wall of guitars", TDIC hunted for a second gunslinger. While recording their first demo, they found him in Snake Green (Skinlab, Re-ignition).

The band exploded into existence seemingly all at once! In a couple short years they found themselves on stage at amazing Bay Area venues such as Slims, DNA Lounge, Brick and Mortar, The New Parish, and The Fillmore! They were sharing stages with nationals including Three Days Grace, Black Star Riders, Skid Row, Crobot, Truckfighters, Charm City Devils, Prong, The Supersuckers, Motor Sister, Tracii Guns, and John Corabi (of Motley Crue fame). Their debut album release show at San Francisco's DNA Lounge was SOLD OUT!!!

The Devil In California's "Longer Ride Down" came out in 2015 on iTunes, Amazon, CD Baby, Spotify, HearNOW, LASTFM, and most other online outlets worldwide. The album debuted at #7 on CMJ's Hard Rock chart. They have already released two singles and videos – "Black Hand" and "Empty Rooms". Their third single and brand new video coming soon!

After some honing of the sound, some touring, and some amazing fill-ins from some great drummers and great friends, TDIC finally really knew what they really needed in a drummer, and in a band mate. They announced their permanent drummer, Andy Galeon (Death Angel, Spiral Arms) in 2016!

With the family complete, they're heading for the recording studio, and headed for the world!

Keep an ear out.





Dress The Dead
Dress The Dead
Kayla Dixon : voice /
Craig Locicero : guitar /
Dan Delay : guitar /
James Walker : bass /
Mark Hernandez : drums
-from Bay Area / CA
-DRESS THE DEAD, the band featuring ex-FORBIDDEN guitarist Craig Locicero, has announced the addition of singer Kayla Dixon (WITCH MOUNTAIN) to the group's ranks. Dixon joins DRESS THE DEAD as the replacement for former THE HAUNTED frontman Peter Dolving, who left DRESS THE DEAD in March 2017. The split happened only three months after DRESS THE DEAD — whose lineup also includes Mark Hernandez on drums, James Walker on bass and Dan Delay on guitar — played its first two shows at Slim's in San Francisco, California as the support act for DEATH ANGEL.

Said Locicero in a statement: "It has been a long and bumpy road getting to this point for a lot of reasons. The main thing is finding the right fit after losing Peter Dolving so unexpectedly. That took us by surprise, to say the least.

"After many months of listening to submissions and not feeling we had the proper replacement, Kayla literally dropped out of the sky with a random text to me on October 9th. She basically said she was turned on to DRESS THE DEAD through a mutual friend and loved our song '1969'. She wanted an audition."

He continued: "I had actually witnessed Kayla playing with her other band WITCH MOUNTAIN almost a year to the day she texted me. I had literally walked away from watching her perform that night and thought to myself, That girl is going to be a STAR!' At that same time, we'd already had Peter, so there was no thought of ever having a chance to play and write music with Kayla. In fact, I never even saw myself being in a band with a female lead vocalist. Let alone a super badass like Kayla. We all could not be happier that it happened!

"Fate is a strange beast and we can not always see what's coming around the bend.

"Needless to say, when she arrived at our studio from Portland (where she lives) a few days later to audition, it completely knocked us sideways! From the very first note she sang with us every one of us played better. There was the excitement and chemistry we'd been looking for! Kayla was our new front-WOMAN and we had all found each other in the most appropriate and organic way possible. Through the appreciation and love of music. That's what it's ALL about.

"Our first show with Kayla will be supporting the 'Killian On Command' (all Bay Area thrash stars VIO-LENCE tribute) for the Sean Killian benefit at the the Midway in San Francisco on January 20th. It's an honor to be included in such an important event to help our Bay Area brother.

"The first song we are releasing [with Kayla on vocals] is called 'There Goes The Sun'. Produced by Robb Flynn [MACHINE HEAD] and recorded by Zack Ohren at Sharkbite Studios. It seemed appropriate as our first selection because it shows how massively diverse Kayla is. This girl can hit ALL the gears, intensity, emotion, guttural, melodic and every register. Kayla simply has it all and 'There Goes The Sun' shows it.

"Now DRESS THE DEAD can finally be a band again. Grow together, play shows, record our music and find the home that best fits us. It's really all we ever wanted and it's an exciting time."

Dixon said that she first learned about DRESS THE DEAD after "a mutual friend reached out" to her. "One of my first thoughts was, 'I don't know if I'm ready or even at an appropriate talent level to be replacing someone like Peter Dolving for these guys,'" she said. "I'd battled with the idea in my head for several months before finally reaching out. I had listened to and loved '1969' but what really hit me hard was when I heard the other songs that are still unreleased that they sent me. I had no idea how musically diverse this band would turn out to be!"





Union Jack & The Rippers
Dylan D. Waltz (Vocals)
Kiyoshi Morgan (Lead Guitar)
Jerry Polk (Guitar)
Carlton Powell (Drums)
-from Santa Rosa, CA
-Formed in 2016, Union Jack and the Rippers is bringing the New Wave of British Heavy Metal (NWOBHM) to Northern California. Guitarist Kiyoshi Morgan pulled together five talented musicians with years of experience to create one of the North Bay's best Heavy Metal cover bands. Union Jack and the Rippers covers favorites from bands like Judas Priest, Iron Maiden, Motorhead, Saxon, Angel Witch, Def Leppard and Diamond Head.

The set list is made up of not just the hits from your favorite British Heavy Metal bands, but the deep tracks you listened to that really made you feel connected to the music, the songs that made you a true fan.

Because of the depth of experience of each band member, the first rehearsal was unbelievable. Each player contributes impressive skill, professionalism and commitment not just to the band but to every song they play. The group gelled from day one and the buzz began.