Sunday
September 9
2018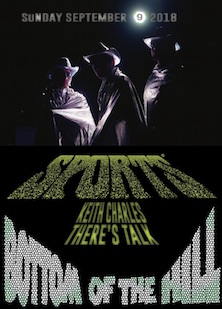 8:00PM

doors -- music at 8:30PM


••• ALL AGES




$

13

in advance

/ $15

at the door
Sports
sportsbandok.com/


Rock blues grunge


Keith Charles
soundcloud.com/kcsb4u


Hip-hop/rap electronica soul


There's Talk
www.therestalk.com/
dream gaze


---

Sports
Cale + Jacob + Christian
-from Tulsa, OK
-Acclaimed indie group Sports have announced the release of Everyone's Invited, their anticipated forthcoming album out August 24. Announced today via Pigeons and Planes, the album is the group's third multi-track release and latest body of work since 2016. A groove-laden new venture that offers something for longtime fans and new listeners alike, Everyone's Invited marks an exciting turn for the up-and-coming band. The news of the album follows the release of Sports' latest single off the project, "Shiggy." Featuring Awful Records alum KeithCharles, the slick and psychedelic single received critical praise from Pitchfork, earning a spot on their weekly What's Good series, while hitting rotation on KCRW's Morning Becomes Eclectic and Spotify's New Indie Mix playlist.


The unveiling of the trio's upcoming album also sees the debut of their third track off the project, the slow and seductive ballad "No Pressure." A slinky single guided by a pulse of piano keys and emotive vocals, "No Pressure" excels through its quiet yet powerful energy, steadily building as waning guitar riffs and percussions kick in.

Named after their self-described lack of athleticism, the cheekily named, Oklahoma-based Sports began playing together in grade school. Comprised of brothers Jacob and Christian Theriot on bass and guitar alongside vocalist Cale Chronister, the group's 80's-influenced electro-pop sound shaped much of their debut LP release in 2015, Naked All The Time. The following year, the band released their heralded sophomore effort, the funk-laden People Can't Stop Chillin'. Kicking off their first headlining tour in 2017 - which saw sold-out shows in New York, Chicago, Los Angeles and more - Sports continue to grow at a breakneck pace, with multiple singles including "You Are The Right One," "Whatever You Want" and "Panama" all amassing millions of plays on Spotify alone.

Everyone's Invited is out August 24 via Stem, pre-order the album here and catch Sports on tour with ginla and KeithCharles this fall. For more info and to purchase tickets visit: http://sportsbandok.com/





Keith Charles


-from Atlanta, GA




-"He was a guest at Father's 'Awful Records Club Night' in London and he was fucking hype. He dropped us a song he made two days before and it was fire. Only negative was that he wasn't on for long with Father."






There's Talk
Olivia Lee
Kellen Balla
Young Lee
-from Oakland, CA
-"bathed water moon" is the Oakland based electronic dream trio's much anticipated sophomore release, and the first inclusion of collaborators Kellen Balla and Young Lee. Quickly garnering comparisons to dream pop leviathans Beach House and M83 as well as the eclectic genre-melding affinities of Sufjan Stevens and Porches, the four-song EP effortlessly navigates the hazy space between propulsive electronic beats and crystalline dream pop. Olivia Lee's ethereal, hushed vocals mesh with hazy shoegaze guitars and swirling synths in a lush tapestry of sonic saturation.


The indie / electronic dream pop effort began as project by Oakland based multi-instrumentalist Olivia Lee (vocals, synths, programming, guitar) as she wrote in between other collaborations.

She began recording in the the converted garage studio of friend Nic De La Riva and finished recording and mixing with engineer Ian Pellicci (Yann Tiersen, Rogue Wave, Hauschka) at Tiny Telephone.

The debut EP, Tiny Stands, rich with eclectic subtleties and textural confessions, released Fall of 2013 garnering recognition from Vimeo, Bandcamp, Impose Magazine, and Crack in the Road.

Collaborators Kellen Balla (electronics, programming, vocals) and Young Lee (guitar, vocals) were added, expanding the ambitious electronic soundscapes for live performance.

After the release the band toured regionally, supporting Glass Animals, Cigarettes After Sex, Arthur Beatrice, Waters, Astronauts Etc, Holly Miranda, Money and more. Utilizing vocal looping, lush synthesizers, and reverb drenched guitar the three took to a hauntingly dynamic wall of sound that now sets the tone for the full band.

Their highly anticipated sophomore EP, bathed water moon, is out now.