Saturday
September 15
2018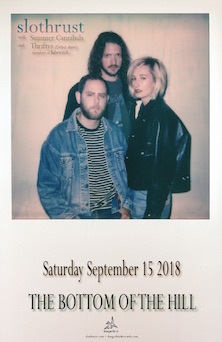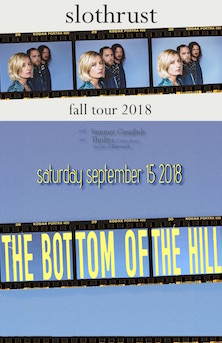 8:30PM

doors -- music at 9:00PM


••• ALL AGES




$

16

in advance

/ $18

at the door
Slothrust
www.slothrust.com/


Rock blues grunge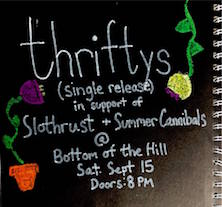 Summer Cannibals
www.summercannibals.com/


Rock


Thriftys


members

of

Toyota

and

Babewatch




(

Debut show and Single & Music Video Release)


thrifty.bandcamp.com/


Neo-Surf Ro

ck



---

Slothrust
LEAH & KYLE & WILL
-from Boston, MA/Los Angeles, CA
-With their long-awaited third album Everyone Else, Slothrust deliver ten riveting anthems that reward repeated listens. The songs grab the ear and pierce the psyche with complex arrangements and lyrical depth intensified by guitarist/vocalist Leah Wellbaum's penetrating vocal delivery.

Slothrust is Wellbaum, Kyle Bann (bass), and Will Gorin (drums). The trio first staked out their unique strain of jazz- and blues-afflicted rock as students at Sarah Lawrence College. The band's 2012 debut Feels Your Pain, and its successor 2014's Of Course You Do, established the band as a breed apart, serving up deceptively clever epics that veer satisfyingly between incandescent riffing and pop hooks, winsome anxiety and powerful heft.

"People have always had trouble comparing us to other bands, but someone recently described us as Nirvana meets Wynton Marsalis, and I loved that," says Wellbaum. Even the band's name inspires a beat of thoughtful consideration as the eyes take in the letters and the brain makes its snap judgement: Slo Thrust? Slot Rust? Slo Trust? Sloth-Rust.

We all studied jazz and blues, so I often use chords and voicings that aren't quite as conventional for contemporary rock," she continues. "Certain harmonic movement can get stale, so I try to incorporate colorful notes to give it more depth. The improvisational spirit of blues music is also something we try to always keep with us, even in more composed playing. I am drawn to musicians a bit further outside of the rock tradition, such as John Fahey, Elizabeth Cotten, D'Angelo, and Portishead. Growing up I listened to a lot of R&B and classical music. And musicals."

While Everyone Else clearly shows Wellbaum fulfilling her early promise as a singer, it's where she hits her stride as a lyricist: Pulling the listener under the surface to explore a submerged world brimming with exotic creatures. Water motifs abound, detailing oddly off-kilter observations about floating, submerging and drowning that are anything but morose. Instead, they contort and reflect worldly truths about life on dry land.

Nowhere is this vision clearer than on the slow burn of the album's centerpiece track "Horseshoe Crab." Here, with storm cloud riffs and Will Gorin and Kyle Bann's perfectly calibrated rhythmic undercurrent, Slothrust's erupts in a geyser of emotional and spatial distance, as Wellbaum observes, "I don't have anything in common with myself, except that I came from the sea, like everyone else did."

"Like a Child Hiding Behind Your Tombstone" opens like some bizzarro world lullaby dispensing sage advice: "Drink seltzer, smoke weed when you can't sleep. Think about shooting birds, everyone has got a violent streak." Then, as the guitars explode, the rhythm section dials into stylish, disciplined groove to set up an expansive instrumental break that gently floats to a close with Wellbaum, at peace: "Hold me under the water. My lungs are filling with plankton. But the lake is not lonely. No need for you to come with me."

Above all the overriding ethos of Everyone Else is its sense of inclusiveness: all people, every feeling, quiet, loud, any time signature. With a snap of the neck the band launches into the hyper-adrenalized "Rotten Pumpkin" with Wellbaum singing in a rapid-fire vomit burst, "I'll make you sick because I'm soft water. Reach inside of me, and scoop out my seeds." This midpoint between grunge and art rock is the aesthetic Slothrust elevates: sharp-eyed individualism, serious musicianship, humble intelligence, controlled abandon.






Summer Cannibals


-Portland, OR


-Led by guitarist/vocalist Jessica Boudreaux, Summer Cannibals initially cut their teeth on the local Portland circuit, sharing the stage and receiving encouragement from peers. Along the way, they released a pair of fantastic full-lengths -- 2013's No Makeup and 2015's Show Us Your Mind — on their own label, New Moss Records. Show Us Your Mind appeared on NPR's Sound Opinions Best of list in 2015. The band has since spent an unhealthy amount of time on the road, earning accolades and adding plenty of fresh converts to their highly-charged, no frills attack.

It seemed only logical that when the band decided to sign to a label, they chose Kill Rock Stars, which has a long history of putting out fearless, female-led bands like Bikini Kill and Sleater-Kinney. Their most recent release, Full Of It, is the band's defining statement to date. Recorded with producer Chris Woodhouse (Thee Oh Sees, Wild Flag), the LP is one of those massive leaps forward that every band hopes to achieve at least once in their career. Somehow Summer Cannibals keep doing it over and over again.

With the band's line up solidified now by long time drummer Devon Shirley alongside the additions of rippers Cassi Blum on guitar and Ethan Butman on bass they are truly a force to be reckoned with. Stay tuned for album number four, it's sure to be a revelation.






Thriftys


members of

Babewatch & Toyota




-from Oakland,CA


-Thriftys is a new project from Oakland-based singer-songwriter Chase Eiseman. The LP marks a broadening of Eiseman's musical palate beyond the neo-surf rock colorations he explored as bassist and contributing songwriter to Babewatch, one of the Bay Area's most rousing and durable club bands. For Eiseman, the Technicolor vibe of Thriftys sprang from a need for some serious decompressing during his first year teaching special-ed elementary students at an Oakland elementary school. "The tangible nature of writing songs felt so good at the time. Teaching is super rewarding but sometimes in the day to day, you really do not have any sense of the work you're doing," Eiseman recalls. Thriftys' debut album, Automatic Thought, will be due out this October. Tonight will be the debut show and single and music video release.