Sunday
September 16
2018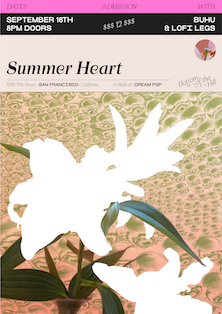 8:00PM

doors -- music at 8:30PM



••• ALL AGES




$

12


Summer Heart


(

from Sweden)


www.facebook.com/summerheartmusic


dream pop


Buhu
yourbuhuband.com/


artrock bedroom pop dance rock dreamwave synthgaze


Lofi Legs
www.facebook.com/lofilegs/


garage rock jangle pop psychedelic



---

Summer Heart
David Aexander
-from Sweden
-Summer Heart is a Swedish dream pop act and the solo project of singer-songwriter and multi instrumentalist David Alexander. He is best known for his nostalgic lo-fi sound.

Summer Heart was formed in 2011 just after David Alexander returned to Sweden. His first release, Please Stay EP (2011), gained a lot of attention in the blogosphere. It was topping Hype Machine's charts and got positive reviews in newspapers around the world such as The Guardian and The Star.

After his songs were being picked up by several TV and movie production companies, one of Summer Heart's tracks ended up on NBC TV-series Whitney, which got him lots of listeners outside the blogosphere.

Although Summer Heart is a solo project, Alexander is most often seen on-stage together with friends.

Summer Heart delivers hazy, sun- bleached tracks that are the perfect anthem to remembering hot July nights filled with skinny dipping and sleeping in.

It's not so often that a band's name truly reflects their sound, but when it comes to Swedish pop, you can expect just that; hazy, sun- bleached tracks that are the perfect anthem to remembering hot July nights filled with skinny dipping and sleeping in.





Buhu
Jeremy Rogers & Tiffany Paciga
-from Austin, TX
-BUHU is the shape-shifting musical brainchild of Jeremy Rogers and Tiffany Paciga.

More than just a moniker, BUHU is a retrospective of their lives and a reflection, or refraction, of their relationship. Nothing is held back, all is laid bare. To see BUHU perform is an experience so intimate that it feels almost illicit—like peeking through a window and witnessing a private moment you're not meant to get to share. Rogers exudes true feeling on stage, bounding freely and dancing with the microphone, moving himself to the point that his legs buckle underneath the weight of all the emotion and fatigue. He wraps the mic cord around his neck like a noose, seemingly choking himself to get these words out. Meanwhile Paciga, like a goddess Rogers can never quite reach, holds court stoically, majestically, to the side, her throne an array of synths, drum machines, pedals, samplers, and loop stations, which she orchestrates like a conductor, weaving a musical tapestry that's lush, sexy, and utterly captivating. The juxtaposition of the two performers together is impossible to look away from. It's music you know somebody's getting lucky to, whether you happen to be one of those lucky ones or not.

Born and bred between Wisconsin and Texas, BUHU's recordings might be described as electronic bedroom pop, in the sense that Rogers produces them largely himself. But that term is way too reductive; these are no tinker-toy beats crapped out with GarageBand on a MacBook. BUHU's compositions are powerful, sonically cinematic, multidimensional, precise, ever unfolding. The songwriting atop that composition borrows from many of the greats both past and present, from Jackson Browne to Modest Mouse, The Books, Tortoise, even Peter Gabriel. The beats bump and the hooks catch. BUHU's music attacks from both sides.

After touring extensively across both North America and Asia, BUHU is set to release their debut studio album, Tenets, on September 5, 2018, through FMF Records, with a worldwide tour to follow.





Lofi Legs
Paris Cox-Farr & Maria Donjacour, Jacob Hess
-from San Francisco, CA
-Lofi Legs Is a Jangle Pop Garage Rock Band.
Started by Paris Cox-Farr, while eating acid on the ancient indian bureil ground (Aroyo Seco).
Lofi Legs has bloomed into a three piece rock trio with Maria Donjacour on drums, Jacob Hess
on bass and, Paris Cox-Farr on lead guitar vocals.