Wednesday
September 19
2018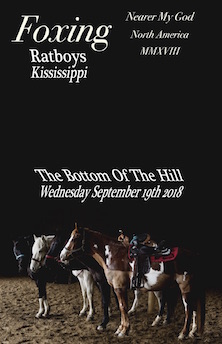 7:00PM

doors -- music at 8:00PM


••• ALL AGES




$

15

in advance

/ $17

at the door
Foxing
www.facebook.com/FoxingTheBand/


Indie Emo, Post-rock, Math rock


Ratboys


www.facebook.com/ratboysband.com/


Neo-folk


Kississippi


www.facebook.com/kississippi/


iindie pop



---

Foxing
Jon, Conor, Eric, Ricky
Touring: Brett, Carolyn, Caeleigh
-from St. Louis, MO


-If you've ever looked at an old document and noticed brown spots on it, what you are seeing are signs of aging. It's not exactly clear what specifically causes them, but one day, the page will completely brown over and be no more. This is called foxing.

A group of St. Louis musicians took this idea and turned it into a band.



Dealer is an artistic triumph for the St. Louis band Foxing. A significant advance from The Albatross, it's even heavier, more compositionally complex, and more personally revealing than its predecessor.

The Albatross became a self-fulfilling prophecy for Foxing. While the St. Louis band's relentless touring enabled the slow-build success of their debut, the aching opening track on Dealer recounts the effect of Conor Murphy having to repeat ugly truths about himself night after night for the better part of two years: "I am caught up in the guilt/ Making a living off of drowning." Though Dealer is an artistic triumph and a significant advance from The Albatross, it's even heavier, more compositionally complex, and more personally revealing than its predecessor. And that's why, from its very first second, Murphy sounds drained over the prospect of doing it all over again—Dealer is not an easy listen. It sounds like it was very difficult to make, and reliving it is going to be even harder.

It's in Foxing's nature to welcome a challenge. Of all the leading figures in the Fest-centered post-emo world, they made the most demanding, unique and self-assured debut. It certainly earned the genre tag—silvery guitar figures streaked and twinkled like tiny Explosions in the Sky, while Murphy's keening vocals delivered confrontational and caustic lyrics with spasmodic, burst-and-bloom dynamics. To paraphrase the slow-motion self-evisceration of "Rory" (think the Wrens' "This Is Not What You Had Planned" stretched to four minutes), he ripped his heart out while it was still beating and shoved it directly in your face. But Foxing are more interested in a renaissance than a "revival", and they mirror the adaptive and forward-thinking qualities of their scene, creating a new voice for familiar sentiments: There was certainly hints of Cap'n Jazz on Albatross, but also actual jazz, as well as Sufjan Stevens' baroque Americana and touches of avant-garde R&B.





Ratboys
Julia Steiner, Dave Sagan + some friends
-from Chicago, IL
-Born out of fierce friendship and a mutual affection for melody, Chicago's Ratboys – anchored by the partnership of Julia Steiner and Dave Sagan – aim to 'write songs that tell stories and honor the intimacy of memory,' according to Steiner.

GN, the group's second full-length album via Topshelf Records, offers a bevy of tales, laments and triumphs, which recount near-tragedies by the train tracks, crippling episodes of loneliness, remembrances of a deceased family pet with freezer burn, and on and on. The songs shift and breathe as worlds all their own, tied together by the group's self-proclaimed 'post-country' sound, which combines moments of distortion and a DIY aesthetic with a devotion to simple songwriting and ties to the Americana sounds of years past.

Drawing influence from the down-to-earth sincerity of late-90s Sheryl Crow and the confessional confidence of Kim Deal and Jenny Lewis, the songs on GN (aka 'goodnight') "largely detail experiences of saying goodbye, finding your way home, and then figuring out what the hell to do once you're back," says Steiner. The songs chosen to close both sides of the record – the slow-burning 'Crying About the Planets' and quizzical 'Peter the Wild Boy' – unpack the respective journeys of two real people who were quite literally lost and found. ''Crying' tells the survival story of Antarctic explorer Douglas Mawson from a first-person perspective, and 'Peter' reflects on the life of a feral child in Germany who was eventually adopted by the King of England,' according to Steiner. 'Writing as and about these people is the best way I can attempt to empathize with them and really just wrap my mind around these bits of history that otherwise might not get talked about. And it helps me understand my own experiences a little bit better,' she says.

Certain personal stories – the tour adventures recapped in 'GM,' the struggle to learn to show affection as divulged in 'Molly' – find Ratboys just as eagerly exploring subject matter that comes from within, and then illustrating the highs and lows with soaring hooks and plaintive ones. Even in the moments that lie somewhere between bliss and misery, a tension persists between Steiner's sweet vocal delivery and Sagan's physical, almost-off-the-hinges guitar playing that lends each song a deeper sense of color and movement.

Steiner and Sagan felt the impulse to make music together from the get-go – they first met as university students, quickly put out an EP together, and started performing as an acoustic two-piece in dorm rooms and backyards. During the next few years, the friends traveled separately, eventually reunited, and recorded what would become the first Ratboys record, AOID, which the folks at GoldFlakePaint describe as 'a gleaming, joyous, raucous display of melodic indie-rock.'


After a year and a half of touring the US and Europe as a plugged-in full band (featuring the additions of drums, bass, and trumpet), the members of Ratboys returned to Chicago and holed up at Atlas Studios for two weeks to record with engineer Mikey Crotty (who had previously worked with the group on the songs 'Not Again' and 'Light Pollution'). 'This time around, we were lucky enough to feature the talents of friends who play the pedal steel, accordion, cello and violin to give the songs an extra something,' says Steiner. 'Dave finally got to show off his ridiculous skills on the pocket piano, and the whole thing felt like one big loving experiment.'

Ratboys keep the good times going in 2018 with a new EP called GL (aka Good Luck). Featuring four songs recorded shortly after the GN sessions, this new companion piece expands upon themes of isolation and memory, while focusing closely on the ups and downs of personal relationships.

'Each of the songs on GL sounds like its own little world, which is what we set out to do,' Steiner says. With each song sounding distinct from the rest, the EP offers up four different takes on the sounds of heartache.




Kississippi
Zoe Allaire Reynolds (She/Her)
Adam DaSilva (They/Them)
Jeremy Probst (They/Him)
Allegra Eidinger (They/Them)
Kaylen Alan Krebsbach (She/Her)
-from Philadelphia, PA
-The words "Sunset Blush" bring to mind a few things at first: a cotton-candy California sunset, a possible shade of an OPI nail polish or a nice wood lacquer. But, alas, it refers to Franzia boxed wine. As Kississippi's Zoe Reynolds was about to leave for tour in October 2016, she picked up a box of wine that would become instrumental in her new record, taking its name. "We were just joking about record title names, and we were like 'Sunset Blush'?" she quipped. "And we were like, 'wait a second...I drink that stuff all the time. It's honest.'"

While the record name might be on the lighter side, Sunset Blush is a deeply personal album for the 23-year-old musician. She grew up going to local emo shows in Philadelphia, eventually being influenced by artists like Hop Along and Modern Baseball. Reynolds, herself, had been making music solo before 2014 saw the inception of Kississippi as an indie folk duo with Colin James Kupson, with whom she met on Tinder. Together, the duo released a cover of "Ears Ringing, Fingertips Lingering" by I Forgot To Love My Father later that year. By August, they put out an EP titled I Can Feel You In My Hair Still. It wasn't until a year later that the then-duo would really start getting traction with their sophomore EP We Have No Future, We're All Doomed. The dreamy, emo-tinged "Greyhound" began circulating the internet, and it was impossible to deny how captivating Kisssissippi's sound was. But Reynolds and Kupson decided to part ways following their 2015 EP and a little touring. "Colin was heavily involved in writing We Have No Future, We're All Doomed and doing that, but Sunset Blush is my chance for me to explore who I am as a songwriter without anyone else there," Reynolds explains.

In the past three years, it may have seemed like Kississippi was silent, but she had been practising her solo act alongside a backing band, touring the US. At the end of 2017, to those who hadn't been paying attention, she released the emo-tinged power anthem "Cut Yr Teeth." All of the pieces seem to be falling into place for Reynolds. Finally. Last year, alongside the debut of "Cut Yr Teeth," Reynolds announced she had signed to SideOneDummy records - a seemingly perfect fit for her singer-songwriter background with an emo-pop ethos. She was even tapped by Dashboard Confessional's Chris Carrabba to open for the band on their national tour: a dream come true for Reynolds. He gave her his best advice: "just moisturise," she says, laughing.