Thursday September 20
2018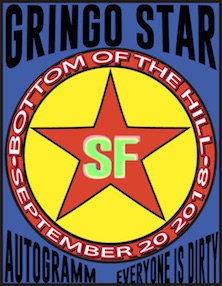 8:30PM

doors -- music at 9:00PM


••• 21 AND OVER




$

12

in advance

/ $15

at the door
Gringo Star
www.gringostar.net/


Indie Garage Pop


Autogramm


members from

Black Mountain

and

Destroyer


www.facebook.com/autogrammband/


80's new wave punk rock "power pop"


Everyone Is Dirty
www.everyoneisdirty.com/


Hi fi garage symphonic post-punk



---

Gringo Star
Peter Furgiuele, Nicholas Furgiuele,
Josh Longino, Mario Colangelo, Spencer Pope
-from Atlanta, GA
-Gringo Star are an Indie Garage Pop band from Atlanta, Georgia, founded by brothers Pete and Nicholas Furgiuele, and joined in 2016 by Josh Longino (featured on the new album) and Mario Colangelo. Their 5th album "Back to the City" is coming out Aug 24, 2018 via Nevado Music, an L.A. based label (Deap Valley, Eternal Summers, Yukon Blonde). The album was produced, written, recorded and mixed at Studio 234 in Atlanta by the brothers. Gringo Star are insouciant explorers, tossing the paddles overboard and drifting on the currents of their lackadaisical curiosity across a rippling sonic ocean, out to the far edges of rock & roll. Shots pulsing from a vintage Leslie speaker, their guitars, keys and vocals create the psychoactive ingredients of their echo-slathered, doo-wop-indebted indie gems; psychedelic garage bangers, gritty R&B shuffles and spaghetti western weirdness. Taking cues from Santo & Johnny, The Stooges, Ritchie Valens, Marc Bolan, The Kinks, Sam Cooke, they're all here, their electric ghosts reaching across time, tapping Gringo Star on the shoulder like the crossroads devil to Robert Johnson, bestowing secrets, passing torches.






Autogramm
Jiffy Marx: Vocals, Synth, Guitar
C.C. Voltage: Bass, Vocals
The Silo: Drums, Vocals, Production
-from Vancouver, BC, Canada
-The original idea that guitarist Jiffy Marx and bassist C.C.Voltage had for this project was more about starting a band that would tour to sunny destinations than starting a new wave band, but it was their mutual admiration for punk and power pop that brought the two together. Along with drummer The Silo, the three had been connected through the Vancouver music scene, sharing stages, friends and even band members in seminal bands like Jerk With a Bomb, The Spitfires, Blood Meridian, Lightning Dust, Hard Drugs, Black Halos, Black Rice and Black Mountain.

It's no coincidence that the three Vancouver musicians chose the German word "Autogramm" as the name of their band. It began as an idea in Berlin, Germany- the city that Mayor Klaus Wowereit called "poor but sexy"- in 2014 where Voltage had been living and playing with Dysnea Boys. When Marx moved back to Vancouver from Brooklyn in 2010, he and The Silo began working on demos for a future project. When Marx and Voltage decided to start a band together some of these songs would influence the musical direction the band would take. CC had also been writing songs with another old friend - Rich Jones from Black Halos and Michael Monroe - and some of these demos also became Autogramm songs. From the drawing board to fruition, the power-pop trio was complete when C.C. moved back to Vancouver in 2017.

By this point The Silo had left Black Mountain to play in Destroyer, who's latest critically acclaimed album "Ken" he also produced. While vacationing together in Mexico, Jiffy Marx asked The Silo to play in his new band with C.C. Voltage and as they say, the rest is history. The three began rehearsing the songs as a three piece with Marx simultaneously playing the keyboard and guitar parts while everyone contributed vocals. With their first single released on Denver's Snappy Little Numbers label in early 2018, a video to follow, and an album coming in September on Nevado Music, Autogramm is well on their way to becoming one of Canada's hardest working bands.





Everyone Is Dirty
Sivan Lioncub, Christopher Daddio,
Tyler English, Jake Kopulsky
-from Oakland, CA


-Everyone Is Dirty is a family of four, a fierce and freaky new voice flying their symphonic spaceship into the future of rocknroll fronted by fatale femme Sivan Lioncub and her anchor-shaped electric violin. Now in their 4th year, they are in perpetual motion, defying genre, releasing music and videos, touring and playing festivals including Treefort, Hickey Fest, Noise Pop, SXSW, BFD, Phono Del Sol, sharing the stage with US Girls, Meat Puppets, Death Valley Girls, Cold War Kids, and more. Their sophomore album "My Neon's Dead" was released on Oakland's OIM Records. Sivan's weird voodoo insanity has been compared to Siouxie Sioux, Brian Eno & Debbie Harry. Her recent endeavors include recording an album with The Residents, accompanying Evanescence, and co-founding Donut Time Audio, a steadily rising community recording studio in Oakland, CA she opened with bandmate/partner Christopher Daddio. Sivan & Chris have been writing music together since 2010 and in addition to recording all of Everyone Is Dirty's songs, guitarist Daddio is establishing himself as one of the Bay Area's premiere producer/engineers, putting Donut Time on the map as a creative & intimate hub for local artists. Sivan's brother Tyler English writes hooky riffs on bass and explores the outer realms of the universe on pedal steel. His best friend from high school Jake Kopulsky commands the beat on drums & glockenspiel. In addition to their ferocious four-piece formation, for mellower moods they deliver a spacey, sultry set with lingering layers of pedal steel, violin, guitar and percussion.