Thursday September 20
2018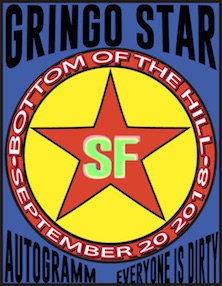 8:30PM

doors -- music at 9:00PM


••• 21 AND OVER




$

12

in advance

/ $15

at the door
Gringo Star
www.gringostar.net/


Indie Garage Pop


Autogramm


members from

Black Mountain

and

Destroyer


www.facebook.com/autogrammband/


80's new wave punk rock "power pop"


Everyone Is Dirty
www.everyoneisdirty.com/


Hi fi garage symphonic post-punk



---

Gringo Star
Peter Furgiuele, Nicholas Furgiuele,
Josh Longino, Mario Colangelo, Spencer Pope
-from Atlanta, GA
-Gringo Star are an Indie Garage Pop band from Atlanta, Georgia, founded by brothers Pete and Nicholas Furgiuele, and joined in 2016 by Josh Longino (featured on the new album) and Mario Colangelo. Their 5th album "Back to the City" is coming out Aug 24, 2018 via Nevado Music, an L.A. based label (Deap Valley, Eternal Summers, Yukon Blonde). The album was produced, written, recorded and mixed at Studio 234 in Atlanta by the brothers. Gringo Star are insouciant explorers, tossing the paddles overboard and drifting on the currents of their lackadaisical curiosity across a rippling sonic ocean, out to the far edges of rock & roll. Shots pulsing from a vintage Leslie speaker, their guitars, keys and vocals create the psychoactive ingredients of their echo-slathered, doo-wop-indebted indie gems; psychedelic garage bangers, gritty R&B shuffles and spaghetti western weirdness. Taking cues from Santo & Johnny, The Stooges, Ritchie Valens, Marc Bolan, The Kinks, Sam Cooke, they're all here, their electric ghosts reaching across time, tapping Gringo Star on the shoulder like the crossroads devil to Robert Johnson, bestowing secrets, passing torches.






Autogramm
Jiffy Marx: Vocals, Synth, Guitar
C.C. Voltage: Bass, Vocals
The Silo: Drums, Vocals, Production
-from Vancouver, BC, Canada
-The original idea that guitarist Jiffy Marx and bassist C.C.Voltage had for this project was more about starting a band that would tour to sunny destinations than starting a new wave band, but it was their mutual admiration for punk and power pop that brought the two together. Along with drummer The Silo, the three had been connected through the Vancouver music scene, sharing stages, friends and even band members in seminal bands like Jerk With a Bomb, The Spitfires, Blood Meridian, Lightning Dust, Hard Drugs, Black Halos, Black Rice and Black Mountain.

It's no coincidence that the three Vancouver musicians chose the German word "Autogramm" as the name of their band. It began as an idea in Berlin, Germany- the city that Mayor Klaus Wowereit called "poor but sexy"- in 2014 where Voltage had been living and playing with Dysnea Boys. When Marx moved back to Vancouver from Brooklyn in 2010, he and The Silo began working on demos for a future project. When Marx and Voltage decided to start a band together some of these songs would influence the musical direction the band would take. CC had also been writing songs with another old friend - Rich Jones from Black Halos and Michael Monroe - and some of these demos also became Autogramm songs. From the drawing board to fruition, the power-pop trio was complete when C.C. moved back to Vancouver in 2017.

By this point The Silo had left Black Mountain to play in Destroyer, who's latest critically acclaimed album "Ken" he also produced. While vacationing together in Mexico, Jiffy Marx asked The Silo to play in his new band with C.C. Voltage and as they say, the rest is history. The three began rehearsing the songs as a three piece with Marx simultaneously playing the keyboard and guitar parts while everyone contributed vocals. With their first single released on Denver's Snappy Little Numbers label in early 2018, a video to follow, and an album coming in September on Nevado Music, Autogramm is well on their way to becoming one of Canada's hardest working bands.





Everyone Is Dirty
Sivan Lioncub
Christopher Daddio
Tony Sales
Tyler English
-from Oakland, CA
-Formed in early 2013 in Oakland, Everyone Is Dirty has been steadily rising on the strength of their hard-hitting home recordings described as "bedroom-tapes on bath-salts" and their explosive live show, distinguished by frontwoman Sivan Lioncub's exotic electric-violin antics and emotionally charged performance. Her violin style has been described as punk, noise, romantic, ethereal, and it encompasses all that, but her violin is a captivating tool of self expression that you really just have to witness. As she moves across the stage wielding her fiddle like a weapon, co-songwriter/engineer Christopher Daddio culls monstrous tones out of his beat-up acoustic guitar, while heavyweights drummer Tony Sales and bassist Tyler English keep that rhythm section cooking hot hot.

Their debut LP, Dying Is Fun, was released on vinyl & digital formats in September of 2014 on SF's Tricycle Records, and made the year's top 10 list on The Bay Bridged, SF Weekly and KQED, and they played BFD, Noisepop, and Treefort. Strange, but shortly after Dying Is Fun was released, Sivan became deathly ill due to a penicillin allergy, and was hospitalized for several months. Looking back on that time, she feels that the album was a prophecy for the illness she later endured. If you want to know if she still thinks Dying Is Fun, you'll have to ask her.