Saturday
September 22
2018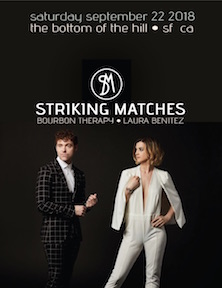 8:00PM

doors -- music at 8:30PM


••• ALL AGES




$

10

in advance

/ $12

at the door
Striking Matches
www.strikingmatches.com/


Pop Blues Rrock


Bourbon Therapy
www.bourbontherapy.com/


Americana, 90's Rock, Folk Rock.


Laura Benitez

(solo)


laurabenitezandtheheartache.com/index.html


Americana



---

Striking Matches
Sarah Zimmermann: guitar/mandolin/vocals
Justin Davis: guitar/vocals
-from Nashville, TN
-"We met in guitar class" is not a thing many people can say...but Sarah Zimmermann and Justin Davis performed together for the first time on the very same day they met...in guitar class.

Fast forward, following the international success of Striking Matches' 2015 album "Nothing But The Silence", produced by T-Bone Burnett, and 9 songs on TV's "Nashville", Davis and Zimmermann have teamed up with Kennedy Karate (BěRNS, Silver Sun Pickups) for their second LP, an album in a style they call "blues-pop" - an amalgamation of their blues and roots based guitar riffs, combined with pop melodies - due out this summer.

Striking Matches are gearing up for an international tour with dates in the US, UK, and Europe all throughout the summer and fall, along with the release of the new record.





Bourbon Therapy
Aaron Skiles-vocals, bass, harmonica, piano
Rebecca Cole Skiles-vocals, keys
Josh Manion-drums, vocals
Andrew Waegel-pedal steel guitar, banjo
Maria Long-vocals
Robbie Kimzey-guitar
-from Oakland, CA
-Bourbon Therapy was born out of Aaron Skiles's realization that the best therapy may just be music...and bourbon doesn't hurt either. After picking up the bass as a freshman at the United States Military Academy, West Point, Aaron bounced around in various rock bands from Seattle to Baltimore to New York to San Francisco. With over 20 years of experience as "just the bass player," Aaron decided to step out on his own.

Bourbon Therapy is based in Oakland, California. They are an indie rock/alt-country band fronted by the husband and wife duo of Aaron and Rebecca Skiles. Their style of upbeat music combined with downtrodden lyrics is reminiscent of the mid-90's Counting Crows or Soul Asylum combined with the modern The Head and The Heart or Silver Sun Pickups. By mixing big guitars with piano, strings and even an occasional harmonica, their sound ranges from heavy riff-laden songs to expressive ballads, providing a dynamic range of anthemic tunes.

Bourbon Therapy's latest album, Hymnals and Hangovers, released on 9/9/16, is an expansive progression from their debut, self-titled album. Highlighting the beautiful vocals of Rebecca Skiles and featuring multi-part harmonies, upbeat instrumentation, and catchy choruses, the album crosses several genres (Americana, 90's Rock, Folk Rock, Indie Rock and more) to deliver an emotional, catchy ride from start to finish.






Laura Benitez (solo)


-from Berkeley, CA




-Laura Benitez, songwriter, lead singer and founder of Laura Benitez and the Heartache, has been making her mark on stage and screen since the year 2000. After several years spent pursuing an acting career and appearing in soap operas and commercials in Los Angeles, she decided to focus on her music and moved to the San Francisco Bay area in 2004. Diving into the region's rich Americana and roots music scenes, she first started honing her country music chops when she joined the newly formed Cottonpickers with her then husband Mitch Polzak in 2005. Taking her musical cues from the heavily rock influenced Bakersfield sound, and her lyric inspiration from her favorite songwriters Dolly Parton and Loretta Lynn.