Wednesday
September 26
2018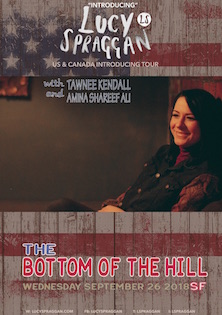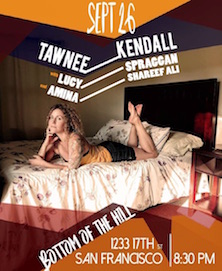 8:30PM

doors -- music at 9:00PM


••• ALL AGES




$

13

in advance

/ $15

at the door
Lucy Spraggan
lucyspraggan.com/


Folk, Indie pop, Acoustic, Hip hop


Tawnee Kendall
www.tawneekendall.com/


Indie Folk Rock


Amina Shareef Ali
shareefali.com/


alt-country folk indie rock



---

Lucy Spraggan


-from the UK


-If 2018 is anywhere near as eventful as the previous year, Lucy Spraggan is set for an interesting 12 months.
The singer-songwriter netted her fourth top 40 album in January last year, and followed that success with more than 22,000 ticket sales across her UK and European tours.
I Hope You Don't Mind Me Writing charted at number 12 in the Official Top 40 Album Chart. The album, the second under her own label - CTRL Records - was described as 'a triumph' by The Sun.
As well as more than 60 headline shows Lucy also performed at some of the UK's most popular festivals, including Glastonbury and Isle of Wight Festival. Recognised as one of the leading lights in the LGBT community, Spraggan has managed to build her fanbase into a far wider market.
Lucy appeared on the X Factor in 2012, since then her audition video has been viewed more than 40 million times. She achieved the unprecedented success of securing a top 20 single (Last Night) and top 40 album (Top Room at the Zoo) while still competing on the TV show. She was also the most googled musician of 2012.
Lucy signed to Columbia and her debut album Join the Club was a top-ten success. Her next record, We Are, was released on her own label after Spraggan opted to take the independent route. The album charted at 22.
Lucy's music-writing career began with Don Maclean and Kirsty MacColl as her major influences, embellished with the folk narratives of Peter, Paul and Mary, and taking on the punchy riffs of traditional R and B.
Her name is now synonymous to the melodic middle ground where pop and acoustic folk meet. The toe-tapping interpretations of classic sounds and the harmony-heavy ballads that she pulls from modern rhythm and blues, are hard to forget. Spraggan's trademark sound is the rattle of rap dropped into sing-along folk-style numbers.
Spraggan has already announced some huge headline shows for October 2018, with shows at iconic venues such as Glasgow Barrowland, Shepherd's Bush Empire, Nottingham Rock City and Manchester Academy.
After releasing four albums in five years Lucy is probably due a rest, but the writing process is already underway for album number 5, due for release in early 2019.





Tawnee Kendall
Tawnee Kendall - Vocals & Guitar
Jacob Wolkenhauer - Lead Guitar
+Visiting musicians
-from San Francisco
-Tawnee Kendall is an independent Folk musician based in San Francisco. Her latest EP, Release The Ghost, was dubbed "heart-on-your-sleeve artistry by Huffington Post.

Kendall is known for delivering gritty, sultry, and commanding folk melodies which emotionally arrest listeners. Her song "Maureen" was reviewed LIVE on YouTube music review show "Roast n Review" and stunned both the hosts and viewers alike. One host was left exclaiming, "Tawnee, you fire as fuck girl."

Kendall's heartfelt songs and electric live performances are not to be missed. Release The Ghost is available everywhere you stream and download music. tawneekendall.com





Amina Shareef Ali
Amina Shareef Ali - vocals, guitar, harmonica
-from Oakland, CA
-Based in Oakland, California, Amina Shareef Ali performs songs of love and struggle. Poignant and revealing verse reminiscent of Leonard Cohen or Conor Oberst is set against a backdrop of American music both traditional and modern, from folk to punk to country to rock and roll.

Hailing from St. Louis, Missouri, Amina Shareef Ali studied music composition at Oberlin College and moved to the Bay Area in 2007. She has performed at such venues as SF's Bottom Of The Hill, the Make Out Room and the Hotel Utah Saloon and Berkeley's Starry Plough. Amina has released four records: The Once and Future Boyfriend (2010) and Holy Rock and Roll (2011) with her band, The Radical Folksonomy; and the solo albums How to End the War (2011) and A Place to Remember the Dead (2014), which received positive attention from the San Francisco Bay Guardian, Examiner.com and several other music blogs.

Amina Shareef Ali has done several tours both solo and with a band, visiting Portland, Seattle, Tacoma, Eugene, Bellingham, St. Louis, Amsterdam, Chicago, Baltimore, Washington DC, New York, Philadelphia, New Orleans, Austin, Tucson, Los Angeles and many other cities. In 2017, Amina came out as a transgender woman.