Friday
September 28
2018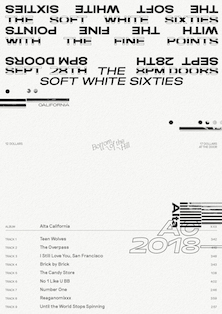 8:00PM

doors -- music at 8:30PM


••• ALL AGES




$

12

in advance

/ $17

at the door
The Soft White Sixties
thesoftwhitesixties.com/


Rock


Fine Points


members of

Sleepy Sun


www.finepointsmusic.com/


Psychedelic rock


Niveles
www.facebook.com/nivelesband/


heavy psych post-rock sf space rock





---

The Soft White Sixties
Octavio Genera, Aaron Eisenberg,
Joey Bustos, Ryan Noble, Rob Fidel
-from SF to LA
- One might expect a San Francisco band named Soft White Sixties to be a loose and colorful psych group, but the name alludes to a type of lightbulb, not the city's musical history. Soft White Sixties are a luscious mix of rock 'n' roll and soul, with hints of glam for good measure. Vocalist Octavio Genera has a fantastic midrange voice that makes for solid rock crooning, and the songwriting on this debut is startlingly strong. The opening track, "City Lights," is like a Black Keys number with a layer or two of fuzz stripped away, while songs like "Rubber Band" and "Treat Me" have the cool R&B strut that landed Fitz & The Tantrums in the limelight. "Lemon Squeezer" pounds and fizzes with ringing piano notes served as a tasty side dish, and "Up to the Light" could be the love child of T. Rex and The Raconteurs. Jim Greer (Foster the People) handles production.






Fine Points


-from San Francisco, CA


-Fine Points are a psych-pop project featuring singers/guitarists Matt Holliman and Evan Reiss, who also play together in the San Francisco-based indie group Sleepy Sun. Formed in 2014, they began gigging around the West Coast, eventually signing with Dine Alone Records, which released the band's debut album, Hover, in July 2015.

Featuring members of Sleepy Sun, Fine Points makes psych rock. Hover is very much a product of the West Coast, capturing the energy of the Pacific's crashing waves, the peaceful vibe of the giant redwoods, and the warmth of the hazy California sun. Their latest release "Take Shape" is out now!




Niveles
Nathan Jimenez (Drums) / Andrew O'Neil (Guitar)
-from San Francisco, CA


-A project formed by members of Moccretro and Mondo Drag.