Wednesday
October 3
2018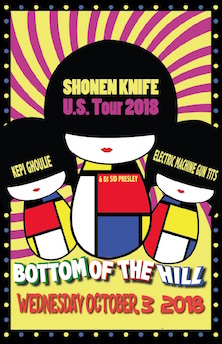 8:30PM

doors -- music at 9:00PM


••• ALL AGES




$

18


Shonen Knife
www.shonenknife.net/


Rock


Kepi Ghoulie
kepiland.com/


pop punk


Electric Machine Gun Tits
www.electricmachineguntits.com/


Rock n Roll - Punk




with

DJ Sid Presley


www.facebook.com/DjSidPresley/


DJ




---

Shonen Knife
Naoko Vo, G
Atsusko, Naru & Ritsuko B, Vo.
Risa Dr, Vo
-from Osaka, Japan
- Shonen Knife's front girl Naoko was inspired to form the band by Beatles,Ramones, Buzzcocks etc. in Osaka on December 30, 1981.
The origin of the band name is an old brand name of a pencil sharpener knife.
Their first album "Burning Farm" on zero records, Japan in 1983 was out on an legendary American label "K" Records in 1985.
Their one and only unique sound got popular in North America, U.K. and Europe.
And their first major album "Let's Knife" was released in Japan, U.S. and U.K. in 1992.
Shonen Knife keeps on releasing their rockin' albums and touring rockin'constantly worldwide!






Kepi Ghoulie
Kepi Ghouile
-from Sacramento, CA
-Kepi Ghoulie is a pop punk band from Sacramento, CA.

Kepi is a genius. This ex-Groovie Ghoulies frontman is KEEPIN' IT REAL, with his all new band, Kepi The Band. He's been on tour for like 12 years straight. If you see them play and don't like them, then you must hate fun. The terrorists win.





Electric Machine Gun Tits
Naoko Nozawa/ Vocal & Synth
Tora Fujimoto/ Guitar & Vocal
-from San Francisco, CA
-ELECTRIC MACHINE GUN TITS are a two piece Rock n Roll - Punk duo, based out of the San Francisco Bay area since the winter of 2015.
Naoko Nozawa on lead vocals and synth, Tora Fujimoto on guitar and vocals.

They have toured New York and have done two summer tours through Japan in 2016 and 2017.

Electric Machine Gun Tits have shared the stage with GUITAR WOLF, PUFFY AMI YUMI, LOLITA No18 and many others.

They released their first album- "LOVE AND PUKE," in June 2017 and second album- "PINK GUTS," in June 2018 which was entirely self produced.





DJ Sid Presley
David Greenfield
-from Pacifica, CA
-David Greenfield, aka DJ SID PRESLEY, spins the music of the late 1950's through the 1960's, including British Invasion beat, surf and exotica instrumentals, groovy mod pop, greasy rhythm and blues, raw garage rockers, and much, much more. An evening with DJ Sid guarantees sounds geared to dancing, drinking and excitement. His carefully-curated sets are packed full of both ear-opening rarities and crowd-pleasing ravers. And it's all vinyl, all the time!