Thursday
October 4
2018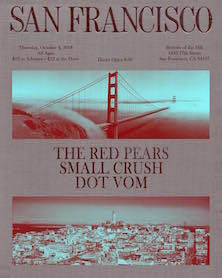 8:30PM

doors -- music at 9:00PM


••• ALL AGES




$

10

in advance

/ $12

at the door
The Red Pears
www.facebook.com/TheRedPears/


alternative indie rock


Small Crush
www.facebook.com/smallcrushh/


alternative indie pop


Dot Vom
www.facebook.com/dotVom/


experimental dream pop



---

The Red Pears
Henry Vargas - Vocals/Guitar
Jose Corona - Drums
Juan Aguilar - Bass
-from El Monte, CA
-The Red Pears are an indie/alternative band from El Monte, CA. The band consists of Henry Vargas on guitar and vocals, Jose Corona on drums, and their good friend Patrick Juarez helping on bass. The group started in the summer of 2014, when Jose and Henry got together with talks of forming another band having known each since high school and playing in different groups, separately and together. Things took off from there as they both shared similar influences, similar backgrounds and similar mindsets and visions.

They started as a duo, with their first gig together being an open mic at a church. The duo became a trio and started playing anything from house parties, to bars, to coffee shops, to open mics. Things started moving fast as the release of 'We Bring Anything to the Table… Except Tables, We Can't Bring Tables to the Table', garnered unexpected attention. They have continued playing and noticed a growth in their audience throughout the years since.

With a very loyal and supportive fan base, and with their latest record, 'For Today, For Tomorrow, For What Is, For What Could've Been', the group is reaching new heights and new territory that has been seen inconceivable for any Latino coming out of the San Gabriel Valley.




Small Crush


-from Oakland, CA




-fun! natural fun!






dot Vom
dany - lyrics / vox / omnichord;
kati - back up vox / bass;
beau - pedal screams;
zach - pedal dreams;
shahan - drum bum
-from San Francisco, CA
-dot Vom is a San Francisco band that has existed in a state of flux since 2013, living out a long rotation of genres and band members before finding their footing in 2018 with a five-member roster and a tongue-in-cheek but earnest brand of over-disclosure.

Songwriter and vocalist Dany Ricci (one of the two remaining veterans from the original lineup, along with bassist Katiana Mashikian) channels a quarter-life crisis through raw emotion and blunt lyrics, rendering self-

deprecatory torch songs almost charming until they're cut down by rolling waves of distortion, courtesy of guitarists Beau Mathews and Zach Fahrney. Practically raisedby wolves (60s oldies, 80s Cantopop, and 40s Italian crooners), Ricci draws from an eclectic range of outdated influences to create their own Omnichord-driven vein of pop. Keeping them current is drummer Shahan Salim, formerly of SF cave-show staples Banshee Boardwalk and Schlemiel O'Neil.