Wednesday October 10
2018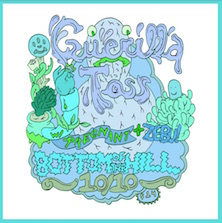 8:30PM

doors -- music at 9:00PM


••• ALL AGES




$

12

in advance

/ $14

at the door
Guerilla Toss
guerillatoss.com/


playful frenetic punk


Pregnant
www.facebook.com/danielispregnant/


electronica


Zebu!
zebu.bandcamp.com/


surf rock experimental noise rock



---

Guerilla Toss


-New York, NY


-Ecstatic, vital, and brilliantly unhinged, Guerilla Toss promotes positive energy and twisted spirituality through the less-traveled path of brutal, intelligent, live rock and roll dance music. Like a hurricane of healing bliss, a Guerilla Toss concert is more of a ritual than a performance. It is the unique pairing of musical voices and backgrounds that makes Guerilla Toss such a special party band. But they are more than that – GT gets real when you pay close attention. Their music is inspired by both tragedy and beauty, drug addiction/mental illness and the re-birth of the soul through spiritual practice and psychedelic drug healing – helping the listener overcome these mind-fuck hardships.






Pregnant
DANIEL TRUDEAU AND STYES MUNSON
-from Placerville, Sacramento, CA


-Pregnant is the musical pipe works of once described hillbilly savant Daniel Trudeau, an intriguing producer, visual artist, musician, and father hailing from the Sierra Nevada Foothills of Northern California. Pairing a sweet vocal style reminiscent of Neil Young with a swelling collage of electronics, foot pedals, guitars and even saxophone, Pregnant's whimsical and DIY vibes are dream-worthy. Raising a family in Placerville, CA brings inspiration to the all aspects of his music, as the lyrics and instrumentation work together to capture a feeling of modern isolation, personal struggle, and self-discovery. After a rapid succession of limited edition releases that helped refine and perfect his sound, Pregnant's Mush debut, Life Hard : I Try fulfills the promise of his earlier work without losing any of the risk-taking genre mixing that makes his music so unique. Pregnant's willingness to combine traditional songwriting, pure vocals, and warped experimentation mark him as an act to watch.






Zebu!
Ted Lee- Vox, Bangs, Heads, Drums, Noise, Scream, Sinatra
Steve D'Agostino- Stringslams, Vox, Hands Feet Fingers, Sonic Heights
And Featuring in No Particular Preference:
Peter Van Siclen- Saxomophone
Stegro Surrett- Bass Bombs, Morale Destruction, Harmonic Assaults
Zach Ianazzi-2nd Skins, 1st loves
-from Northampton, MA

& Brooklyn, NY


-ZEBU! was founded at Hampshire College in 2003/4. The powerhouse duo of Ted Lee (No Sound, Egg Eggs) and Steve D'Agostino (The Wild) create improvisational surf noise punk that defies the logic of rational musical creation. Originally called "Professor Fishface and the Fuckfaces", ZEBU! crafted its sound among the jam bands and stoned minds of a educationally vapid institution. Striving to reach great musical heights, the band has released 16 recordings that run the range of noise explosions to rock and roll classics. The band has shared the stage with such diverse musicians as The Mammals, Screaming Females, Gary Wilson, Laura Stevenson and the Cans, Exits to Freeways, The Can Kickers, etc.

Ted lives in Easthampton!
Massachusetts!
Steve lives in Atlanta!