Friday October 12
2018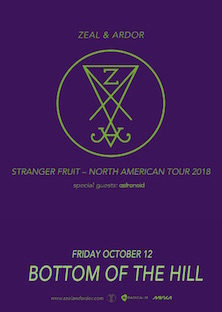 8:00PM

doors -- music at 9:00PM


••• ALL AGES




$

15


Zeal & Ardor
www.zealandardor.com/


Blues, Gospel and Soul meet harsher music


Astronoid
www.astronoidband.com/


Dream Thrash




---

Zeal & Ardor


-from New YORK, NY


-Creative firebrand Manuel Gagneux returns with a brand new Zeal & Ardor single.
Gravedigger's Chant [artwork shown] is set for release on Good Friday, 30th March, and serves as an omen of what's to come from his forthcoming second Zeal & Ardor album, Stranger Fruit.
With its haunting refrain of "bring the dead body down", Gravedigger's Chant takes listeners on someone's final journey. Manuel intones, "The gravedigger's chant is the song sung by the people who lay your body to rest. These people don't care where you were, but they know what you did and who loved you. All they know is what lies
before them. So they sing this song, since you can no longer breathe a note." Manuel continues, "Our intent is both to familiarize as well as alienate.

Mixing blues, gospel, and soul with harsher music has opened up a world of possibilities for Gagneux. Previously creating as a one man solo effort, the immense interest and critical acclaim Zeal & Ardor attracted upon release of debut album Devil Is Fine, has led to the project becoming a fully- fledged, internationally-touring band. After months hidden away, crafting the new songs for Stranger Fruit, Gagneux entered the studio with producer Zebo Adam and mixer Kurt Ballou (Converge, Kvelertak, Nails). While the finished sound is larger and heavier, it is still unmistakably Zeal & Ardor.
The diverse yet cohesive nature of the sixteen tracks on Stranger Fruit [artwork shown] is designed to encourage the listener to dig a little deeper and find their own meaning in its words. In contrast to first LP Devil Is Fine, these songs are deliberately intended to play off each other both lyrically and musically.
While the record seethes with a justifiable rage, its wider-reaching aim is to unify, not divide, and to inspire action, not inertia. Elements of a bleak melancholy are tempered by hope. Superficially, the album tells small isolated stories, but there are also references to the Goetia, Yoruba, and obscure occult literature and history within.

Zeal & Ardor is the one-man brainchild of Manuel Gagneux, a Swiss-American formerly based in New York City. His approach draws on an alternate history and stems from two thoughts: Christianity was imposed upon American slaves, just as it was imposed in Norway, and black metal in the '90s grew as a rebellion to monotheism. What would have happened if American slaves had rebelled in the same way? Or put bluntly: What would satanic spirituals sound like? First album Devil Is Fine was released globally in February 2017. Zeal & Ardor have been generating significant buzz ever since, with accolades piling up from both musical peers and international media, including Noisey, Rolling Stone, Alternative Press, Kerrang!, The Independent, Metal Hammer, Upset, Brooklyn Vegan, and
many more.






Astronoid
Brett Boland
Daniel Schwartz
Casey Aylward
Matt St. Jean
Mike DeMellia
-from Groveland, MA


-Astronoid is a five-piece band from Boston, MA with influences ranging from Devin Townsend and Mew to Alcest and Cynic. Their first full-length album, Air, was released by Blood Music in 2016 as part of an evolving experience that complements their two acclaimed EPs from 2012-13, Stargazer and November. The driving rhythms, subtle time signatures and soaring vocal harmonies combine to create an auditory cloud to lift you into the ether. There's always something new to discover hidden within the dense layers of thrashy guitar riffs and euphoric vocals. Lyrically, the record conveys a disillusioned and hopeful view of the world as a whole.