Tuesday
October 16
2018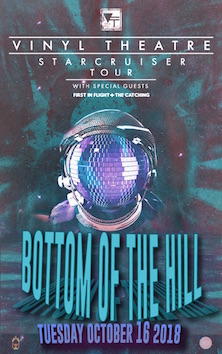 7:30PM

doors -- music at 8:00PM


••• ALL AGES




$

12

in advance

/ $15

at the door
Vinyl Theatre
www.facebook.com/VinylTheatre/


Indietronica, Electropop,


First in Flight
www.firstinflightband.com/


Indie Pop / Dance Rock


The Catching
www.thecatching.com/


Pop Rock




---

Vinyl Theatre
Chris - Keegan - Nick
-from Milwaukee, WI
-A piece of paper may seem flimsy, but once it's folded into something it becomes stronger, its weakness suddenly transformed. That's true for people, too: Once you recognize your weaknesses you can shift them to become your strengths. You can become like that piece of once-flimsy paper, now folded into origami. That's the premise behind Vinyl Theatre's dynamic second album, which takes the title Origami to represent the idea that you have the power to reform your personal limitations.
The Milwaukee trio started writing the new music shortly after finishing their 2014 debut album Electrogram, their first release for Fueled By Ramen. The musicians found themselves deep in thought while touring the country extensively over the past two years, reconsidering how they wanted to project their ideas through their songs. The goal of Origami was to tell a cohesive story, rather than just gather tracks together, and Vinyl Theatre wrote nearly 40 songs, beginning with one called "My Fault," which encapsulates the main message of the record.
"We toured for eight and a half months during our first year out," Keegan says. "You start to realize your weakness and your strengths on the road. You realize that there will never be a last hurdle – there's always another one. There's always something more to be gained. That song is about finding strength in your faults, which carries through the rest of the record. It's a positive album with hopeful undertones, but it also touches on these harder parts of life."
The musicians mostly wrote between tours, finding time off the road to focus on the new music. Only one track, "Pull Your Weight," was written in a hotel room in Pennsylvania while on tour. There was an emphasis on growth this time around, a desire to push beyond what the group achieved with Electrogram. "We've always looked up to bands that were able to
progress with each album and to make sure that you're not putting out the exact same record," Chris notes. "In the past our releases were simply what we had written. This was the first time we were able to write song after song and really make sure we put out the best possible ones."
In August of 2016 Vinyl Theatre headed up to upstate New York to record at Dreamland with producers Albert Di Fiore and Alex Aldi, whose work with Passion Pit inspired the musicians to connect with him. The band spent a month recording day in and day out, focusing solely on the music. They used real drums for every track and wanted the process to feel as organic as possible. There were no limits put on what could be tried and in the end, Vinyl Theatre left feeling like they'd tested all sonic options. "We were able to try everything we wanted," Keegan says. "We can look back at the album with no regrets now because we know we had the opportunity to explore the songs in the studio."
The final album spans nine songs, each of which reveals a thoughtful message in its lyrics. "30 Seconds," a propulsive rocker, is about the brevity of life and how amazing it is that we get any time here at all. The hopeful song asserts that we have a birth date and a death date, but what's really important is that dash in between them. "New Machines," a surging, layered number, embraces a new sound for Vinyl Theatre. The compelling song asks whether there's an end to knowledge, exploring ideas of spirituality and how important it is to keep searching for new ideas. It feels like the band's most thought-provoking and mature song to date. That sense of imagination and open-minded consideration is an important facet to Origami overall.
"When we wrote our first record we were still working other jobs," Keegan explains. "A lot of songwriting was on the weekends. It was like an escape, so the songs were happy and hopeful. Now we've had time to sit together over these long drives on tour and we've thought a lot about things. We've had time to consider what kind of impact we want to leave on people. We want to make enjoyable music, but also have a bigger impact on those who listen."
"This album definitely has hopeful undertones and positive messages

throughout the songs," Chris adds. "Ultimately, we wanted to write songs that were close to the heart and that show a different side of us."
Origami marks a massive growth for Vinyl Theatre. The guys originally started writing songs together nine years ago via Skype, but didn't officially form as a band until three years back when they unveiled their Chromatic EP in the summer of 2014. Since the release of Electrogram a few months later, the band has toured with Twenty One Pilots, Smallpools, The Mowgli's and Dashboard Confessional among others, and headlined Summerfest in their hometown of Milwaukee. Being on the road so much has pushed the musicians to become even better, which is reflected in the new songs. They're driven by a sense of pride in their work, always aiming to do more and to create music that is hopeful and encouraging to those who listen. For them, Origami is about embracing who you are and using that knowledge to become stronger.
"Even when something feels paper thin you can make anything out of it," Keegan says. "You can make anything out of yourself, too, when you realize what you're made of."





First in Flight
Pat McCloskey | David Topete | Richard Mier | Max Huss
-from Milpitas, CA
-Like all great recipes, First In Flight contains a list of dynamic ingredients. In November 2015, best friends Richard (Guitar) and David (Bass) looked at each other during a concert and said "We can do this." David had the attitude, the long black hair, and the focus. Richard had the energy and a deep love for guitar. A foundational duo to say the least. Their musical roots in heavy metal served as the first ingredient.

After weeks of writing in their gear stuffed bedrooms, it was time for the next piece. They needed a drummer, and the choice was simple. Max, described as a "child prodigy" and "bottle of sunshine" brought a certain brilliance and dependability to the group. The second ingredient was found. The sound and musicality of a neo-80s rock band was there, but it needed to be brought into the modern age.

Craigslist: Where you might find a worn in couch or a questionable used car, was where the final ingredient was found. Pat had moved from the Windy City with a pocket full of backflips and stories, and since his plane first touched down, he spent his time searching everywhere he could for a new band. Max exclaimed "You're In!" the moment Pat finished his audition. The recipe for their sound was finally complete: Imagine eating cotton candy in the middle of a mosh pit. A sweet urgency that pushes you forward. That was First in Flight.

Since their inception, First in Flight has seen airplay on the Kevin Klein Live Morning Show, ALT105.3 Radio, toured through the West Coast, and released their newest EP "Dalliance" in April of 2018 to positive reviews. And thats just the beginning.






The Catching
Holden Glazer: Vocals and Bass
Jake Farbman: Guitar
Evan Hemwall: Guitar
Drew Stevens: Drums
-from Asbury Park, NJ/Los Angels, CA
-Originally hailing from New Jersey, and now based in Los Angeles, The Catching features lead singer and bassist Holden Glazer (19), guitarists Jake Farbman (18) and Evan Hemwall (20) and drummer Drew Stevens (20). The pop rock band draws inspiration from Fall Out Boy, Coldplay and Imagine Dragons. Their carefully-crafted style is highlighted by a sonic palette of polished guitar hooks, Holden's rock-based vocal rasp, a driving low end coupled by a booming backbeat.

The members of The Catching met at a young age while performing together in local New Jersey music programs. Quickly realizing they shared amazing chemistry, and a common vision, this group of talented musicians began collaborating on writing original music. Ultimately, The Catching was formed in 2014.

The Catching released their first EP, "Teenage Fiction Part 1," in 2016 and toured extensively throughout the US, gaining a national fan base along the way. They have recently been in the studio writing and recording with Matt Squire, a world-renowned songwriter and producer, who has produced albums by Panic! At The Disco and All Time Low while also writing and producing top 40 hits for One Direction, Ariana Grande, Katy Perry, and Selena Gomez. This powerful collaboration resulted in a new wave of songs that showcase The Catching's sonic diversity.

Already garnering praise in the press, MTV.com called The Catching one of the "9 Boy Bands that can fill the void of One Direction's Indefinite Hiatus" and Kings of A&R cheered "I was hooked after the first listen."