Sunday November 4
2018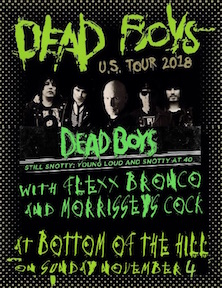 8:00PM

doors -- music at 8:30PM




••• 21 AND OVER




$

17

in advance

/ $20

at the door
Dead Boys
www.facebook.com/deadboysofficial/


Punk Rock


Flexx Bronco
www.flexxbronco.com/main.html


Rock 'N Roll , Punk


Morrissey's Cock
morrisseyscock.bandcamp.com/


Punk Rock



---

Dead Boys


-from Cleveland, OH


-In 2017, punk rock pioneers the Dead Boys celebrated the 40th anniversary of their landmark first album Young, Loud and Snotty with a worldwide tour and special re-recording of the record.
Formed in Cleveland in 1976, the Dead Boys were one of the first American acts to combine the proto-punk fervor of bands like the Stooges and the New York Dolls with a new level of intense energy. They quickly moved to New York City where they became a staple of the CBGB scene with iconic club owner Hilly Kristal at the helm as their manager. Their 1977 debut LP produced one of the first great punk anthems, "Sonic Reducer," and was a pivotal album in the birth of hardcore punk.
After one more record, the band split in 1979. They reunited for a few gigs in the 80s, but following the death of lead vocalist Stiv Bators in 1990, the band members went their separate ways except for two brief reunions in 2004 and 2005. The return of the Dead Boys began with guitarist Cheetah Chrome.
"I've had my solo band for the last twelve years and Dead Boys songs have always been included in my shows," says Cheetah, "but over time the right mix of people came together to not only pull off but enhance the Dead Boys sound." Together with original drummer Johnny Blitz, guitarist Jason Kottwitz, Detroit punk legend Ricky Rat on bass, and vocalist Jake Hout, the Dead Boys are back! As Cheetah puts it, "I've been singing Dead Boys songs myself for 20 years because I couldn't find another singer I trusted enough to hand it to. The first gig with Jake, it was like, 'You got it, man!' I think Stiv would be very proud of our choice."






Flexx Bronco
Phil Bronco - Guitar
Eroc - Guitar
Guy Thunderbird - Bass/Vocals
Thor Bigsby - Drums
-from San Francisco, CA
-Flexx Bronco is the real deal from San Francisco, California. Everything they do is derived from within. Their writing style, based on collective experiences, influences and lifestyle, exposes many truths found while touring and living it over the past decade. Flexx Bronco is not just a "Rock N' Roll" band. While that is at the heart of what they do, more aptly they embody the essence of it.

"A venomous potion somewhere in between, boogie, punk and hard rock, with hard riffing, bold punk attitude and bourbon raining over every tune." (-WWW.AUDIODROME.IT - 2010)

Rooted in all aspects of outlaw, Flexx Bronco's influences draw from the bad boys of just about every guitar based genre. The typical Flexx Bronco set spans a variety of genres, ranging from country to rock, blues to pop and alternative, all firmly rooted in the heartbeat of punk rock.

The four members of Flexx bronco; Filthy, Eroc, Guy Thunderbird and Thor Bigsby come from very different backgrounds, and once musically combined their songs epitomize explosive, eccentric Rock and Roll decadence. Flexx Bronco takes the listener through the ages with drunken country sing- alongs, heavy garage blues, and then with a single down- beat, jetting them off on a lightning fast full- throttle punk and roll onslaught.

Flexx Bronco have played over three hundred shows in the last several years, sharing the stage with such phenomenal acts such as the Supersuckers, Agent Orange, The Bronx, Throw Rag, The Black Halos, Tesla, Sammy Hagar and Death by Stereo to name a few. The bands juxtaposition of old school work ethic and vivacious musical passion exudes in their dynamic stage shows, ensuring their fans a true rock and roll experience each time around. Flexx Bronco lyrics drench the soul like the first shot of bourbon to kick off an explosive night.

"I actually had more fun listening to the Flexxies than I did listening to Springsteen the other night." - (Steven Seaweed, 107.7 the Bone FM, Apr '09)

"Volume 2 – showcases Flexx Bronco at their hard-edged best." -(Sean Thompson SF Examiner '09) What more would one expect from SF's best drawing local Rock/Punk band, packing in fans at National venues such as the Paradise Lounge and Bottom of The Hill. Flexx Bronco was voted "SF's Favorite Live Punk Band" in The SF Bay Guardian's Best of the Bay '08 and "Best Local Rock Band" in SF Weekly's Best of The Bay '09. Vol.2 is the first official release by Flexx Bronco as a four piece and solidifies their sound as more melodic, confident songwriters and performers.

With successful headlining tours on the west coast, the band looks forward to maintaining their role as best pick for national support slots on the local level, as well as support for headliners on the national and international circuit.





Morrissey's Cock
Vocals & Guitar: Simon "Miss Fire" Olson
Guitar: Herman "The Hammer"

Pal Singh


Bass: Phil "Big Red" Craner
Drums: Phillip "The Slacks" Manning
-from San Francisco, CA


-This San Francisco 4-piece are purveyors of upbeat and unabashed cock rock with their blend of 70's and 80's punk, garage and boogie. Morrissey's Cock formed in late 2016 and have been publicly exposing their jaw-dropping and expansive sound to eager admirers around Northern California. Whether you like it hard n' heavy or sweet and sensual, the vigor of Morrissey's Cock has yet to leave a crowd unsatisfied.